Did you notice?
•The sign on the doctor's desk is James Finlayson's real name (the H. stands for Henderson).
•The name of the factory where Stan and Ollie work is Sharp & Pierce Horn Manufacturing Company.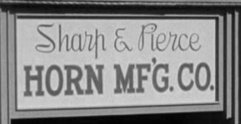 •When we first see inside the horn factory (the second scene of the movie) look at the guy at the end of the workbench next to Stan & Ollie's table; he is quivering like a leaf!
•At the factory when Ollie explodes he says "horns to the right of me, horns to the left of me". He indicates his left as we see it from our perspectives as his right, and visa versa. I am not sure whether this was deliberate for the camera or the fact that his character is meant to be dumb!
•Stan works at the horn factory whilst wearing gloves, whereas Ollie doesn't.
•When Stan and Ollie leave the horn factory they find their car (mounted on the sidewalk). But in the opening shot of the film the car was not there?
•When Stan honks the car horn outside the horn factory it lasts continuously for 40 seconds.
•Stan puts on his glasses to speak in the telephone conversation with Dr. Finlayson.
•When Fin presses his hands on Ollie to do the lung test (as Ollie blows into the balloon), his right hand is rather low, don't you think?
•In the scene where Stan walks into the closet (just after Ollie has got off the telephone to Ben Turpin), he pulls the switch for the light, which doesn't work. He then strikes a match on the wall. If you look closely you can see two similar marks that are already there, which indicate he had rehearsed or filmed this scene prior to the take.
•When Ollie barges into the apartment to get rid of the music professor he pushes through the door. Watch how the walls shake.
•As Ollie is on the telephone by the window, Stan opens the closet door and pushes him out of the window. As Ollie dangles precariously above the ground, watch how the reflection in the windows suddenly change (which would indicate a second cut).
•There is a rather strange camera movement when Stan runs out of the apartment with the bedding to break Ollie's fall from the window. As Stan runs away from the camera down the hallway, the camera suddenly pulls back. Seems unnecessary?
•Among the items the boys take on board the boat Ollie has a bag of golf clubs.
•The rented boat is called the Prickly Heat.
•The goat's name is Narcissus.
•The improvised meal the boys cook for Nick consists of:
string = spaghetti, bar of soap = grated cheese, sponge = meatballs, cotton belt = bacon, red paint = tomato sauce, talcum powder = biscuits, coffee = tobacco.
•The reward for the capture of Nick is $5000 dead or alive, according to the piece in The Evening Blade newspaper.
Stan Laurel


Himself/'Dopey'

Oliver Hardy


Himself/'Dizzy'

Richard Cramer


Nick Grainger

James Finlayson


Dr. Finlayson

Ben Turpin


Cross-eyed plumber

Charlie Hall


Desk clerk
Harry Bernard
Harbor patrol captain

Patsy O'Byrne


Mother

Francesca Santoro


Little girl with doll

Harry Hayden


Mr. Sharp

Patsy Moran


Switchboard operator

Gene Morgan


First policeman

Mary Gordon


Mrs. O'Riley

Eddie Borden


Berserk employee

Robert McKenzie


Captain McKenzie
Eddie Conrad
Professor O'Brien

Jack Hill


Man beneath auto
Ernie Alexander
Newsboy
Claire James
Secretary

Sam Lufkin


Workman in horn factory

Charles A. Bachman


Officer