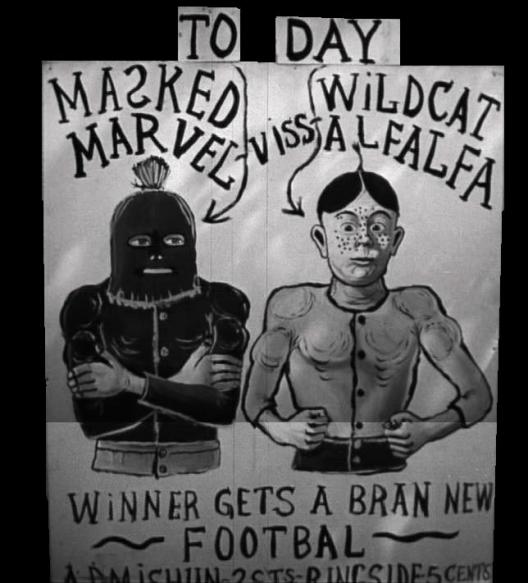 We open with a shot of a crudely-made poster advertising an upcoming wrestling match over a new football. The contenders: the unknown 'Masked Marvel' versus 'Wildcat Alfalfa'. None other than Alfalfa (Switzer) himself stands next to the poster, admiring his own appearance. He opens the gate adjoining the poster, and walks into the gang's clubhouse area, greeted by a warm "It's about time you got here" from a waiting Spanky (McFarland). The pair walk over to a group of three kids, candidates for becoming Alfalfa's opponent, the Masked Marvel. The three are dismissed as having "too much muscle", being 'one of those wise fellas' and Alfalfa not liking the look of the third one's eyes.
Spanky can hardly believe that Alfalfa thinks he cannot fight any of them, suggesting he find someone, anyone to fight. After a brief moment of thinking, Alfalfa turns to see a grinning Porky (Lee) sitting down behind Buckwheat (Thomas). Deciding on Porky, the two get inside the makeshift ring to practice, putting their hands on each other's shoulders, and staring each other down. We then cut to a victorious Porky sitting atop Alfalfa's stomach, only getting up as Alfalfa says 'uncle'.
Buckwheat and Spanky, with bemused looks on their faces, enter the ring. Spanky criticizes Alfalfa for not being able to beat Porky, and again asks him if he cannot think of anyone else. By coincidence, Waldo (Darwood Kaye) appears from indoors reading Shakespeare, and not looking where he was going, badly trips over a box. A joyous Alfalfa proclaims "I know I can lick him!" and Spanky says the two should test it out. As Waldo dusts himself off, the two enquire if he can wrestle, and when Waldo says no, he is quickly pushed to the ground by Alfalfa. Waldo accepts the offer to be the Masked Marvel, and goes off to see his girl Darla (Hood).