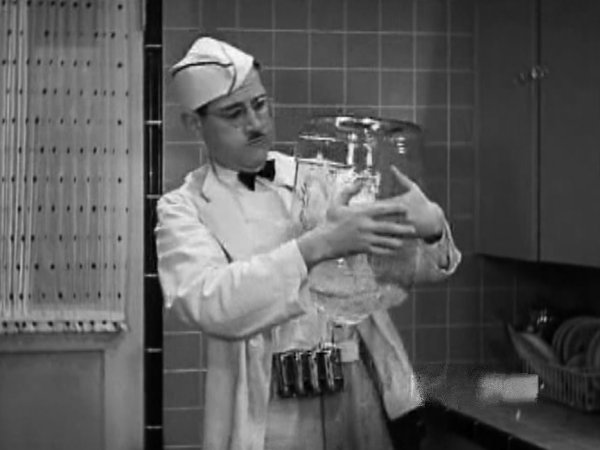 Betty Mack

is babysitting her nephew

Tommy Bond

and trying to get him to eat his spinach, which she knows is really broccoli. When he protests she telephones her sister (the boy's mother) (

Gertrude Astor

) to tell her. The mother says that if he eats his dinner then he can have some ice cream as a reward. Cue

Charley Chase

, driving along in an ice-cream truck whilst singing merrily to a gramophone record he has in the wagon. Betty spots him in the street and flags him down. They sing their way through her asking for some vanilla ice-cream. Finally, she buys some vanilla ice-cream and gives it to the brat she is looking after. But no, he wants peach!
Charley is talked into going into the house when Betty asks him for a favour (he jokingly responds, "what flavour would you like?") Inside, he is asked to change a large water cooler bottle on the kitchen floor. After trying to impress his attractive customer, Charley cuts the leg of his trousers with a corkscrew whilst attempting to get the cork out of the top. After fumbling around for a few moments, Charley somehow manages to get the bottle wedged into the top of his trousers as the water spills out down the inside of his clothes and onto the kitchen floor, with Betty looking on in sympathy.