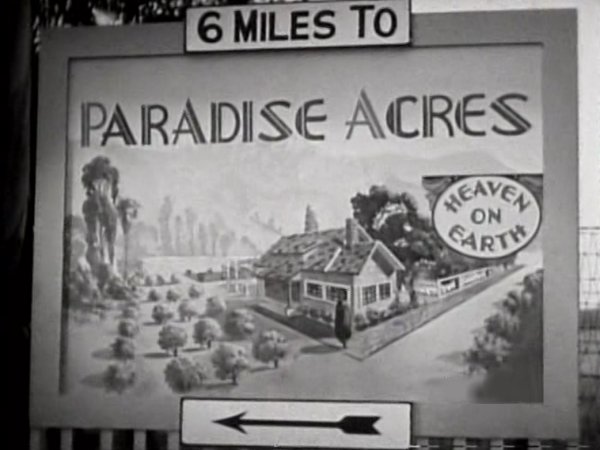 The opening shot showing an open tin of sardines leads to a packed train. Patsy (

Kelly

) tells Thelma (

Todd

) that she has an itch, but with so many passengers cramped up it is difficult for her to scratch it. When she attempts to do so, she inadvertently ends up scratching the leg of fellow passenger

Nora Cecil

. Another passenger (

Billy Bletcher

, with a false beard) brushes past the girls, as Patsy tries to conceal a wad of money she is carrying.
A polite passenger (

James C. Morton

) kindly offers Patsy his seat after seeing her money. He pitches his idea to her: a farm called Paradise Acres, where she doesn't have to pay rent and can "gather in the eggs, milking her own cows, filling her basket with radishes, cucumbers and string beans". And of course, raspberries.
Patsy and Thelma are next seen driving along the road in a car, towing a cow when they stop at a billboard advertising the farm (see image left). Patsy's duck causes havoc with Thelma's hair, and Thelma's hat gets mauled by a goat they are carrying in the car. They move on, stopping a little way down the road when they stumble upon their Paradise Acres - a small wooden shack in the middle of nowhere, surrounded by sand.