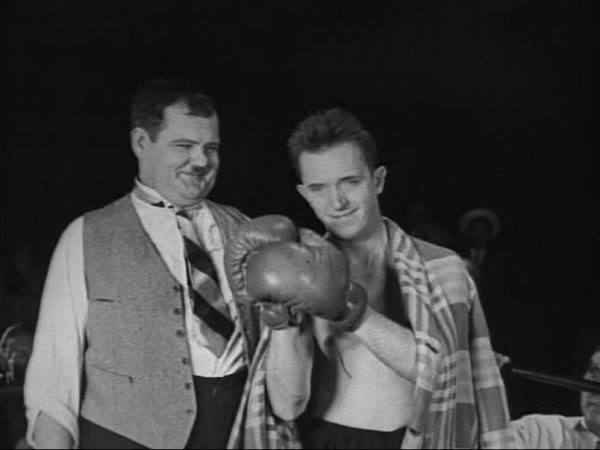 The film opens in a crowd-filled darkened arena, where boxer Stan (by calls himself 'Canvasback Clump'), managed by Ollie, is about to take on the mighty Thunderclap Callahan (Noah Young). The ring announcer introduces the two oppponents to the audience, mocking Stan in the process. The crowd add to the mockery as they all nod in unison.
Stan sits in his corner awaiting to fight his menacing-looking opponent as Ollie tries to convince Stan that he will be fine, because he is considered an idol. The referee (Sam Lufkin) calls the boxers into the centre of the ring and asks if they understand the rules. Callahan smiles and returns to his corner, ready to fight, with Stan left standing in the middle of the ring alone and confused.
As the bell rings to start the bout, Callahan notes that his glove is unlaced and seeks assistance from his second. Stan is fired up and in his over-excitement, gets tangled in the ropes.
Against all the odds, Stan manages to (accidentally) knock his opponent out. But the chance for victory eludes him when he is unable to follow a simple order from the referee to go to a neutral corner whilst the count is layed on. Later, the opponent recovers in the next round and takes Stan out with one easy punch. By the time he comes to, the arena has emptied of all the fans.