Step Lively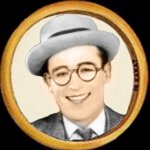 Series:
Harold Lloyd
---
Company:
Rolin/Pathé Exchange
---
Released:
30 December 1917
---
Type:
silent short
---
Length:
1-reel
---
Production:
L-11
---
Filming dates:
September 21 - October 1, 1917 [Bob Demoss/Rob Stone]
---
Filming dates:
September 22 - October 25, 1917 [Annette D'Agostino]
Director:
Alf Goulding
---
Producer:
Hal Roach
---
Photography:
Walter Lundin
---
Titles:
H.M. Walker
:
Harold Lloyd
---
:
Bebe Daniels
---
:
Snub Pollard
---
:
Charles Stevenson
---
:
Belle Mitchell
---
:
Gus Leonard
UNAVAILABLE ON DVD
From The Harold Lloyd Encyclopedia by Annette D'Agostino Lloyd and published here with her permission:


College student Harold arrives home for a short vacation, in need of more funds, which his father refuses him. Unable to stand the strain, the father send his secretary to the college to bring the boy home, but by some mischance, the secretary, bearing a letter of introduction and funds, is held up by a highwayman, who promptly proceeds to see visions of big coin in sight. Harold, taking it all for granted that the former burglar is to be obeyed, falls in with him and between the two, a number of hold-ups and other happenings occur. The climax is reached when the home of Harold's father is entered and burgled. It winds up happily, however, when the father receives the repentant and, by now, thoroughly frightened boy.
Trivia
•
It is unclear why, with a release date of December 30, 1917, "Step Lively" was not copyrighted until June 24, 1918.


•

This was a very lost film for a long time, not appearing in Lloyd filmographies by Eileen Bowser and Adam Reilly.


•

Weekly salaries at this point: Harold, $150; Snub, $100; Bebe, $75.

•

A print of the film exists at the UCLA Film and Television Archive.


•

Collectors of 8mm and early video copies of another Harold Lloyd film, Count Your Change (1919) were misidentified as "Step Lively".
---
What the experts say
•
"I have not yet been able to view this film."
~ Lord Heath.
Acknowledgements:
The Harold Lloyd Encyclopedia by Annette D'Agostine Lloyd (book)
https://en.wikipedia.org/wiki/Step_Lively_(1917_film) (Wikipedia)



This page was last updated on: 26 June 2018