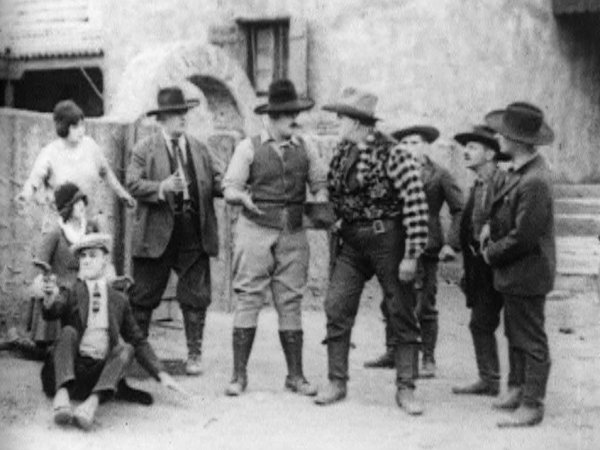 (Charley Chase) is 'Jimmy Jump', a traveling salesman selling collapsible lightning rods who stumbles upon a robbery-in-progress when he tries to make his sales pitch to a shack in the desert. One of the hostages (Blanche Mehaffey) hands Charley some money she has on her, and tells him to leave with it in order to keep it safe. Of course, Charley thinks he has made a sale and drives off, grateful. Blanche then telephones the sheriff (Jack Gavin) to advise him and to stop Charley and get the money back. The bandits get on their horses and go after Charley in pursuit of the money.
The sheriff stops Charley and takes the money from him, and the bandits flee back to the hold-up house. After the sheriff hands the money back to the woman, she returns to the house - only to find the bandits waiting for her.
Charley also returns and becomes embroiled in the robbery and is handed the money for safekeeping (again). However, the gang leader (Leo Willis) discovers this and orders his death by firing squad (a bit extreme, don't you think?) This plan backfires when the gang shoot at their leader by mistake. Charley fakes his own death and the sheriff arrives to capture the bad guys. But the leader is one step ahead and rides off with the money. Suddenly, a seemingly-dead Charley rises from the ground and shoots the thief off his horse. The money is retrieved and a satisfied Charley dumps his suitcase and its contents in a well. Blanche falls in love with her hero and welcomes him with open arms. Charley seizes the opportunity but falls arse-over-head on the ground.