Love 'Em And Weep
(1927).
•At the time of shooting, Hardy would have been 38 and Thelma Todd was 24.
•Thelma Todd was originally slated to play the role of the ex girlfriend (the Mae Busch part).
•A Spanish-language version of the film was made as Politiquerias.
•This is my personal favourite short film of Laurel and Hardy (well, I thought I'd throw that in there!)
Did you notice?


•"New Tax Law Will Set Better Standard" is one of the headlines in the newspaper Hardy is reading in his office.
•The newspaper lists Hardy's middle name as "Norval", the same as in Pardon Us. This is spelt incorrectly.
•When we first see him Ollie is wearing a rose in his breast pocket jacket.
•When Stan swats the fly in Ollie's office, the sound effect is the same one used when he does the same thing in Our Wife (1931).
•Stan has a plaster on the second finger on his right hand.
•There are 7 workers in the office next door to Hardy's office.
•Mae Busch walks into the office at 10:35am. Thelma Todd walks in at 10:45am.
•A calendar hangs on the reception wall, but it is hard to say with any degree of accuracy which month it is set to; though in a later scene Thelma Todd comments that it is currently July. If this was the case then bearing in mind the dinner party was at 7pm the sun would have been still very evident, yet when Mae Busch turns up with Stan it is very dark outside.
•Hardy's telephone number is Granite 3648.
•When Stan is in Mae Busch's apartment, there is a coathanger still attached to the back of his jacket whilst he is wearing it.
•There is a bear's head rug on Mae Busch's floor.
•At the Hardy residence there is a large motif hanging on the wall bearing the name "Norvell". This was actually part of Oliver Hardy's heritage.
•Mae Busch lives in a building called Empire Apartments. The gossip woman lives across the hall from her and just happens to know Mrs. Laurel. Small world huh?
•Mae Busch is wearing white underwear when she is wrestling with Stan outside the building.
•A total of 13 onlookers observe the Laurel/Busch fight. One of which I think is Baldwin Cooke, who appears at the end of the scene from the left wearing a hat.



•The IMDb state that Frank Rice plays Hardy's dinner servant. Yeah, right!
•Hardy demands that Mae Busch leave his house, he then fires a gun. As he does this look at Stan's hat - it clearly has a thin piece of string attached to the top of it which is pulled upwards as the gun is fired to give the impression that his hat flew off in comical manner as a result of the action on screen.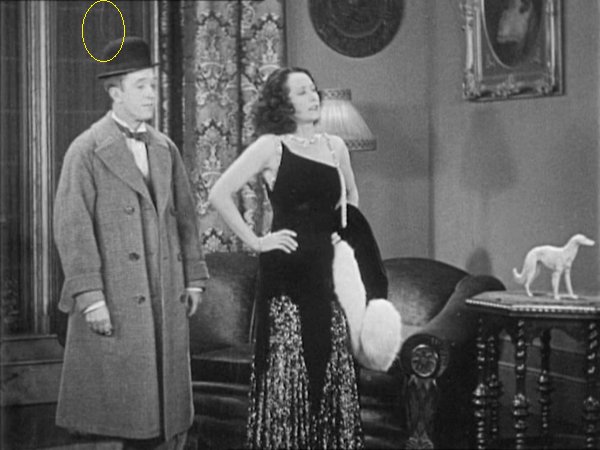 •Thelma Todd wears an ear-ring only in her left ear.