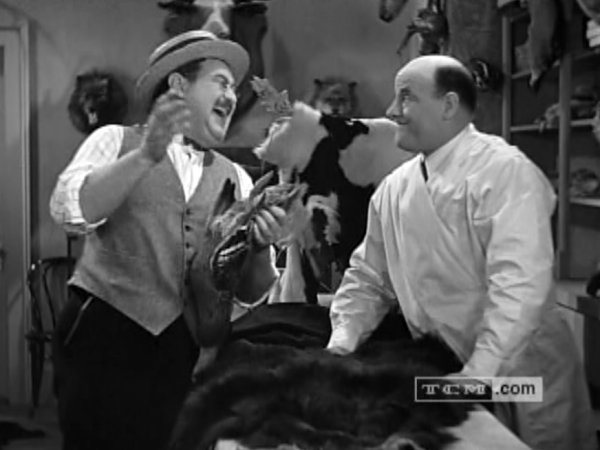 Schmaltz (series regular Billy Gilbert) is in the taxi garage but not paying attention when he hoists his co-worker (Billy Bletcher) up into the air with the car on a lift. The foreman (you cannot fail to spot him, as he has the word "foreman" conveniently attached to his overalls) demands to know what it going on. Schmaltz begins to mumble his excuses to the foreman but forgets the car is still in the process of being raised into the air. The loud crushing sound of the car hitting the roof of the garage abruptly ends the explanation. Another cabbie (Clifford Thompson, a giraffe of a human being) walks over and gets upset, though restrains himself to a gentle quip in Schmaltz's direction (see "Favourite bit"). The foreman forcibly ejects Schmaltz.
Schmaltz and his mechanic drive down the road and stop outside a taxidermists, where a sign in the window is looking for assistance inside. Mis-reading the sign to say "taxi driver" wanted, Schmaltz ventures inside the store to meet the shop-worker (James C. Morton), who sends him to meet the boss. The boss is in the back room giving one of his workers (

Richard Cramer

) a stiff talking-to over sleeping on the job as a night watchman. Schmaltz catches the tail end of the grilling when he tells the boss he has come about "the job". The boss hires him in place of the tough-looking Cramer, and is given his first assignment - to stuff a large bird. He gets straight to work, plucking the feathers from its carcas until a violent sneeze blows them all clean off!