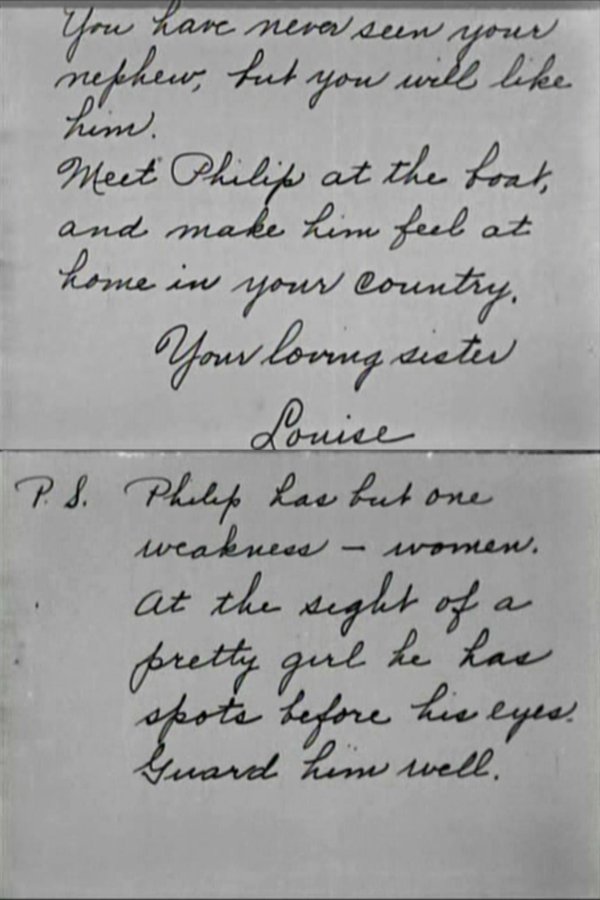 .......
The Honourable, influential, diginified and proud Piedmont Mumblethunder (

Hardy

) is at the docks awaiting the arrival of his Scottish nephew, Philip (Laurel). He reads the request letter from his sister to meet and greet Philip and make him feel welcome. And then there's the P.S. - Philip has a weakness with the women!
The kilt-wearing Philip disembarks the ship along with a fellow Scot who is dressed almost identical to him and the two shake hands. The elder Scotsman leaves as Philip is summoned by the ship's welfare officer (Sam Lufkin) for a medical examination before he can be cleared. Philip is told to open his mouth so the officer can examine him. He obliges, rather animated in his compliance, but the officer is immediately concerned and takes Philip's pulse, as others laugh on in the background.
The bemused officer continues to look at his watch whilst holding Philip's wrist in his other hand. Philip is equally bemused by his emotionless face. Eventually Philip understands the predicament and bursts out crying. The gag does becomed a little over-worked here as the officer pops a thermometer into Philip's mouth, whilst counting the seconds on his watch. After a few seconds the thermometer is removed from Philip's mouth (well, half of it is) and the observing crowd continue to crack up at the spectacle in front of them.
His uncle Piedmont also laughs and confides in a bystander that "somebody has to meet that!", little realising that in a few seconds he himself will be introduced to "that!" Still the medical exam continues, with the viewer getting a little tired of the routine by now as it is evidently being used as a time filler for the film. The officer bangs on Philip's chest and tells him to cough. Philip obliges and blows the officer's hat off. The attention then turns to examining Philip's hair for lice, something Philip is not keen on. After several unnecessarily aggressive attempts to check Philip's hair, Philip turns the tables on the officer and does likewise on him, almost turning it into a physical fight. Philip is then asked if he has been vaccinated? Philip says he has, but not in the arm! Philip is eventually dismissed.
Although the laughing crowd continue to mock him, Philip realises whom it is he is supposed to meet, and pulls out a photograph of his uncle from his pocket. Piedmont immediately stops laughing when he sees. They quickly leave...