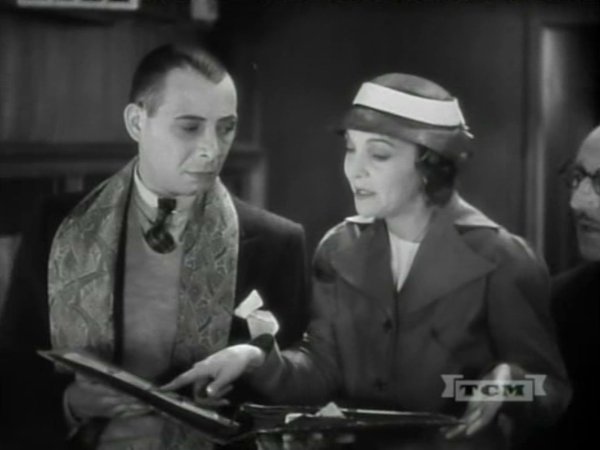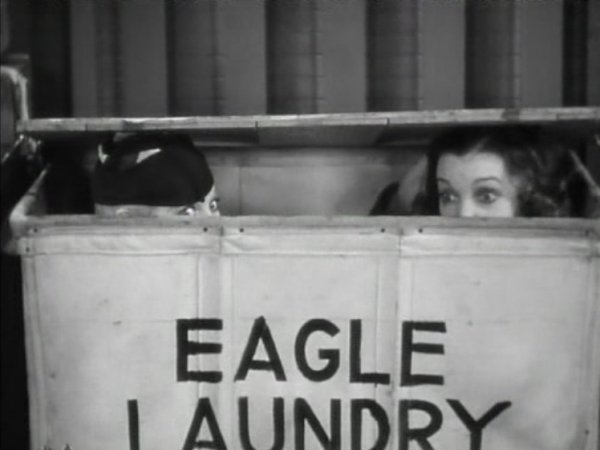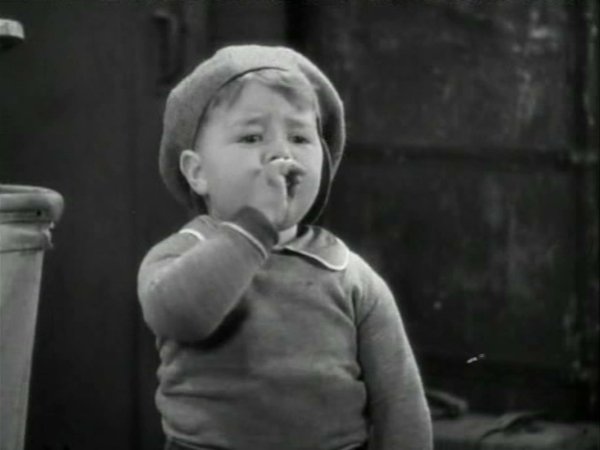 ZaSu wakes with a stiff neck. Thelma violently and noisily remedies this with some physical jerks. ZaSu equally noisily, cracks the bones in her hands and fingers, one by one. Looking for Spanky, she spots him fast asleep in the lap of the Director. (Don't ask!) She says to Thelma, "Oh there he is, the little darling." Thelma says, for some reason, in a slight Irish accent(?) "Darlin' me eye!" As ZaSu lifts Spanky, she notices a large advert in the newspaper underneath him. It's a big picture of Director Von Sternheim 'Star Maker Of The Roaring Lion Studios'. Seeing this, Thelma is in a massive panic and they both go to the bathroom to make themselves presentable before he wakes. There is quite a few girls in there already, and bitchiness reigns as they all give each other the evil eye. But NOBODY can do it like Thelma! Heated rollers are left on a chair and Thelma shouts in pain when she sits on them. In a temper, she throws them in the sink that ZaSu is using.


This causes steam to rise in ZaSu's face and, in between coughs, she asks Thelma to get her some water. Thelma mistakenly presses the 'soap' button as well, so after drinking, ZaSu is blowing bubbles! One even 'pops' on Thelma's nose!


The girls return to their seats and smile sweetly at the Director, who ignores them. Thelma even flirts and waves and he turns away! (The mad fool!) Thelma looks at him in disbelief, because, quite rightly, she is not in the habit of being turned down! ZaSu tells her to recite something to impress him. Thelma begins: "Into the valley of death, rose the 500...." " 600 ." corrects ZaSu. Von Sternheim is still purposely taking no notice, so ZaSu tells Thelma to recite louder. Thelma does so, but unfortunately has problems remembering the "500 / 600" part, three times! A fed up Spanky asks her, "Can you make up your mind?" The look that Thelma gives him would scare a grown man, never mind a child!


Meanwhile, the yes-man assistant, rushes in with a telegram and says, "Our star has got temperamental again and she's left!" The Director asks, "Well? What of it?" He continues to say that he can make a star out of anyone. ZaSu stands and announces that Thelma is an actress and shows him Thelma's scrapbook, filled with cuttings, pictures and reviews. Von Sternheim remains unimpressed, especially when ZaSu points to a picture and says, "Oh, that's not her, that's a bloodhound, I think!" Charming!" While all this is going on, Thelma is making some rather unflattering (for her) toothy poses! Eventually, he relents and agrees to give them both a test, right there on the train. "See what you can do with this!" He gives Thelma the script, informing her that she is 'the daughter'. To ZaSu, he says, "You're the Father! And you must say, 'Go! And never darken my door again!' " He gives her a large walking cane to emphasize her line. She does so, but not with enough 'force', so when she gets more forceful, the second time, she nearly falls out the window! Charlie Hall, Baldwin Cooke and others help her back in. Tangled at the end of ZaSu's hooked cane is a large mailbag that was 'hooked' outside! A further attempt leads to her repeating her mistake of nearly flying out the window, but this time hooking a tree! Spanky says, "Next time, bring me in a pony!" He then seems to remember that he has to laugh. And because it's a tiny bit late, it comes out very fake. But he's SO cute, he gets away with it! All this is much to the displeasure of Thelma, who wants to impress the Director! Naturally, Billy has his usual 'turn', as he takes away the mailbag and tree!
Back in their seats, a very upset Thelma turns to ZaSu and snorts, "With force! Huh!" and using both feet, violently kicks the chair in front of her. The poor man in it, goes flying and this leads to tit-for-tat goings-on with the other passengers in the carriage. Thelma, as usual, places her hands on her hips, unafraid, ready for action (tea please!)Then SHE goes flying, as a passenger behind her, pushes HER chair! Before you know it, the glass case containing the bees gets hit. Beemania fills the carriage! Thelma and ZaSu clamber over chairs (and people!) to create a distance from the little buzzers! Be warned! All that 'clambering' will increase the need for more tea! They find a "Eagle Laundry" (WHAT a coincidence! That's where they used to work!) linen basket to hide in. The 'buzzing' increases in volume and the girls peep out and deliver four evil eyes to Spanky, who is happily blowing on a 'buzzing-whistle-type toy. He hears the REAL bees coming their way and fearfully tells the girls to "Move over!" He squeezes into the linen basket in between Thelma and ZaSu (Is that kettle on yet?) just in the nick of time, as the bees enter the room.
Corny ending, to a corny short film and I love it!