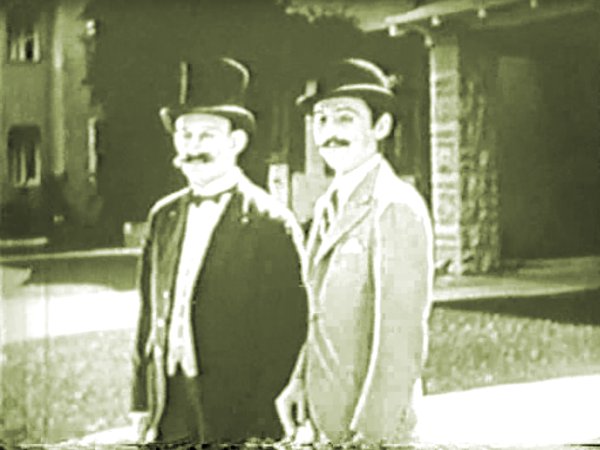 REVIEW IS FROM APPROXIMATELY 11 MINUTES OF FOOTAGE

A flirt (TYLER BROOKE) appears before a judge (ANDERS RANDOLF) charged with inappropriate behaviour towards a temptress blonde woman (VIVIEN OAKLAND) who tells of her ordeal. After hearing her story, the judge sentences him to ninety days but his neighbor, Mr. Krum (JAMES FINLAYSON) proposes that if the judge shows leniency then he will assume all responsibilty for the flirt's future actions. The judge agrees, and releases the flirt into Krum's charge on a thirty day probation. On the way home from the court, the two men spot a woman (LYLE TAYO) trying to cross a flooded road. The flirt gallantly offers to help the stranded lady by giving her a ride on his back, but he topples over into the giant puddle, spilling his passenger. Krum runs to a nearby building site and grabs a plank to assist the wet couple but his efforts only result in him getting wet too (and that's after he is hit by a brick launched by the angry site worker!)
The lady kindly offers for the two men to come back to her house to dry their clothes. At the house, the trousers come off as they warm up by the fire as the woman's suspicious husband (TINY SANDFORD) arrives home. The flirt picks up a framed photograph of the husband on the mantle and ridicules him continuously, oblivious that the husband has entered the room and is watching them. When the two men realise, the flirt makes a quick exit, leaving Mr. Krum at the mercy of the burly husband who roughs him up and drags him out of the house just as a group of reporters arrive with their cameras just in time for their scoop! Fortunately they manage to escape in the back of a cab, as Krum reminds his friend that he has still got to be responsible for him for another month yet!