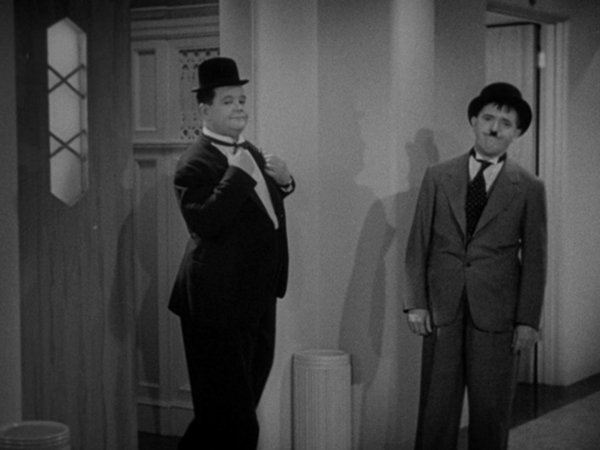 When the time comes to pay the boys try to explain that they were bidding on the clock for another lady but the auctioneer won't accept their story and calls the boss (Finlayson again). He orders them to pay and leave, remembering (and quoting) their previous conversation about the furniture payment.
Mrs. Hardy arrives at the bank to ensure her husband cannot withdraw the money from the account but the teller (Charlie Hall) informs her that she is too late and that Ollie has closed the account; she is furious. Meanwhile, Stan and Ollie are carrying their new purchase along the street when they cross a road. Stan, in his infinite wisdom asks to put the clock down for a minute. Seconds later the clock is reduced to a pile of splinters as a large truck runs straight through it (watch Stan's face when he sees the truck approaching!) Ollie's face says it all, and without a single word the boys head back home. Mrs. Hardy has made her way to the auction house and accosts Finlayson. When he tells her that her husband bought the clock she steams home to confront Ollie - and whacks him in the head with a frying pan, knocking him out cold. A concerned Stan takes his pal's pulse and realises the problem is serious...
Later at the hospital, and after Stan has finished eating the flowers he has brought for Ollie, he finds that Ollie's condition has worsened. The doctor asks for Stan to donate some of his blood for a transfusion which will save Ollie's life. Despite being initially reluctant (and worried about whether or not he will have to remove his hat) Stan obliges; but the operation does not go to plan. The nurse informs the doctor that Stan has passed out due to him losing too much blood. The doctor instructs her to reverse the operation and give him some of Hardy's blood. The result is a complete mess! Ollie loses his moustache and inherits Stan's voice, whereas Stan now has Ollie's features. The head nurse bids them a goodbye as Stan, now impersonating Ollie to perfection pulls off a very good tie-twiddle and hat-tip before summoning Ollie with some very Hardy-esque mannerisims with the point of his hands. The film ends as Ollie walks to the side of the screen to pull the end credits into view.

The boys bow out from the two-reel short films with dignity and with a decent effort worthy of recognition as one of their best.