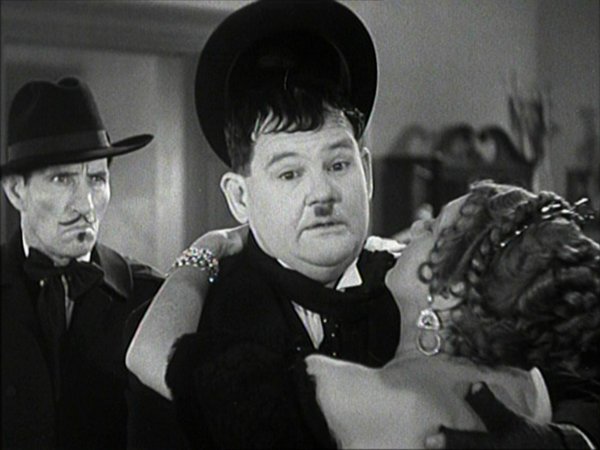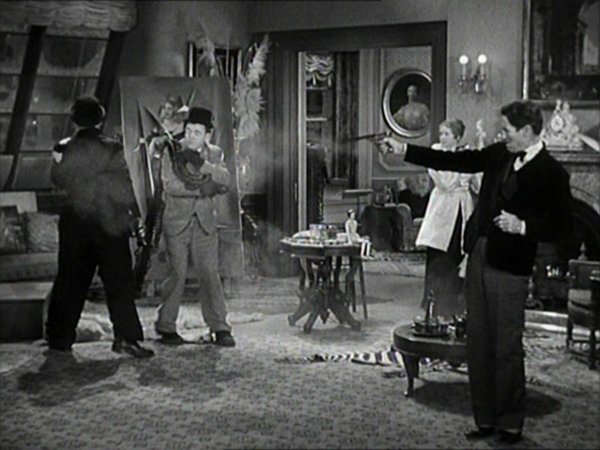 The husband (Charles Middleton) demands an explanation, but when it is offered he refuses to accept the situation at face value, prompting him to issue a challenge to Hardy at midnight to duel to the death in the very same room.
The second reel begins with the boys sitting miserably in a bar drinking beer, with Ollie contemplating his fate when Stan comes up with a suggestion. Supposed Ollie doesn't show up at midnight, then the guy cannot shoot him. Ollie makes the call; Pierre is not happy and storms out of his apartment with the intention of finding and killing Ollie on the spot. A short while after, the telephone in the bar rings and Stan answers it, but Ollie is baffled when he hears Stan's end of the conversation.
Ollie: "What did he say?"
Stan: "He said it's a long distance from Atlanta, Georgia, and I said it sure is"
Into the bar walks the drunken card customer (Housman) whom the boys met at the beginning but he is refused service by the wise bartender (Noah Young in a rare speaking role). The drunk offers to buy all of the boys' cards if they agree to order a drink for him. Several drinks later and the boys are passed out, so the drunk assists the police in locating what he believes to be his new friends' apartment by using the card in Ollie's pocket (which was issued by the irate husband.) The police unload Stan and Ollie onto a bed and leave. Soon after, the real residents arrive home and discover the boys waiting for them. Pierre wastes no time in reminding Ollie of the proposed showdown and leads him into the living room and explains the rules. Fortunately his wife has loaded the guns with blanks, so upon being 'shot' Ollie can play dead. The two men duel and Hardy observes the wife's instruction, but upon hearing the husband declare he wants to make sure of the death by cutting him up into pieces, Ollie suddenly springs to life and together with Stan make a quick exit. It's a lucky escape.
All things considered it is an incredibly slow, confining film; tight, and with little space to breathe. The editing of the sequences are too long and there appears to be a static camera for the most part (they could have just mounted the camera on a tripod and got the same effect). Not one of their best and evidence that the two-reel formula had been exhausted.