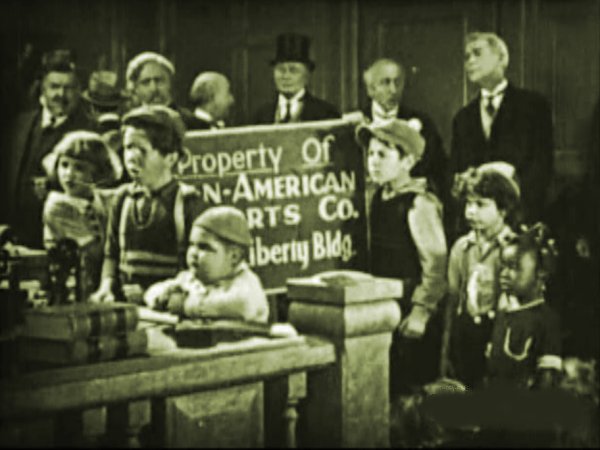 Joe, Mickey and Johnny are at their purpose-built fairground with Mickey assuming the role of "originator, inventor, designer, builder, superintendent, brick layer and carpenter" as the boys try to come up with a plan to build their own rollercoaster to rival Coney Island. When surveyors arrive to tell the boys to move their mini circus due to the land being seized, the boys take their complaint to the land owner Henry Mills and ride into town to meet him. En route to the office, Henry sees the other half of the gang playing baseball and stops to join in but the fun ends abruptly when he hits the ball through a shop window.
The gang storm Henry's office just as he arrives for an important meeting and demand to see him. Henry talks with the kids and tells them how he remembers when he was younger he had his own circus before agreeing to leave with the gang. They all return to the patch of land where the gang had erected their fairground at the beginning of the film, with Henry taking charge to fix things up for them. Meanwhile the board members who were waiting patiently back at the office for a meeting with Henry leave to find him, determined to have their meeting with him.
Later in the day, the kids' amusement park is up and running and in full swing, with some of the attractions slightly more operational than others. For the next few minutes the film is just a showcase for all the kids having fun on all the rides they have built. The board meeting goes ahead albeit on the fairground when the kids engage the directors to help muck in.

Before long, the park is filled with kids and grown men alike, all riding on the rides and taking part in the fun. After an exciting day playing with the children, Henry decides to quit the business and "stay young". Everybody wins. The end of the film sees Farina mistaking a skunk for a dog and wanting to keep it as a pet.