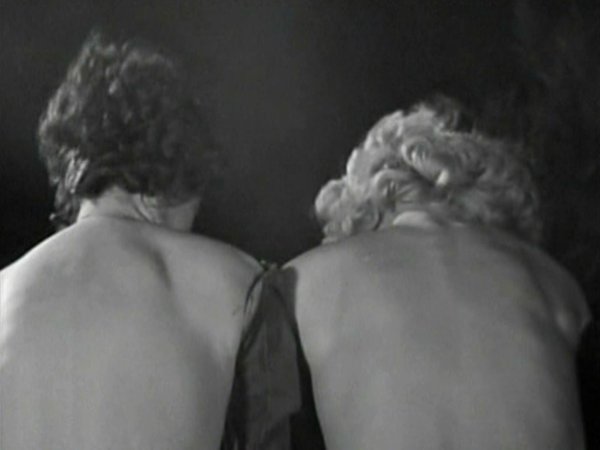 The girls go camping overnight in the woods.
Thelma and Patsy work at the tourist's information and baggage counter in a Grand Central Station type of setting. After the usual allotment of slapstick mishaps, the girls are looking forward to their weekend of rest and relaxation. Thelma just wants to sleep in late, but Patsy convinces her that they ought to go on a weekend camping trip... roughing it in the process, taking in the fresh air. Reluctantly, Thelma gives in. We next see the girls pull up to the camping grounds in their automobile,Thelma is not in the very least impressed and the priceless look upon her face says it all. Patsy, on the other hand, gets right down to business and attempts to pitch the tent, with the usual slapstick results. Thelma really has her hands full with Patsy along! The girls finally get their sleeping quarters fixed up when it is just about time to eat. The beans burn. Now cold, scared and hungry, the girls jump at the slightest sound from the forest. While in bed, they encounter a bear. Thelma protects their slab of bacon by sleeping upon it, to no avail. The girls end up in a tree as the Forest Rangers, led by Captain Don Barclay, shoot at the bear... with Thelma and Patsy half-naked in the tree.
Thelma looks absolutely stunning in her camping outfit,by the way (worth mentioning,in my opinion). She is so cute in that outfit, yet very exquisite at the same time.