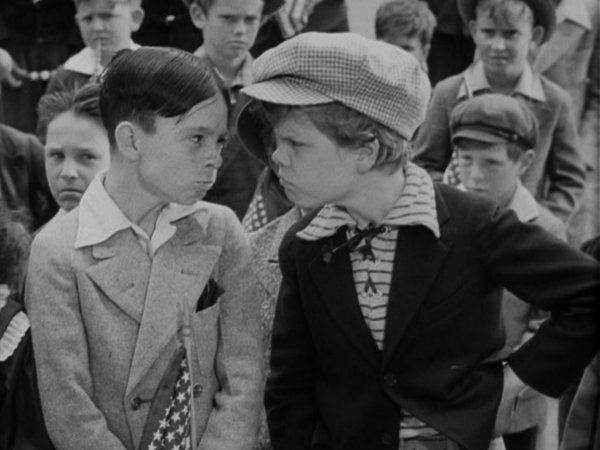 Darla is outside playing on a swing when Waldo appears with a bunch of flowers and invites her to the Strawberry Festival, but she rejects him because both Butch and Alfalfa have already asked her. The two boys are fighting over who gets to take her when Waldo shows them a newspaper which offers one boy to be appointed junior mayor of Greenpoint for one day during "Boys' Week". Darla decides to go on the date with whichever boy becomes the mayor.
So the battle begins! Alfalfa takes Buckwheat and Porky as he promotes keeping the city clean, but a jealous Butch makes sure Alfalfa's plan fails when he spreads litter all over the grass. Butch decides to launch his own initiative by offering free "marshmellows" [sic] to his gang of followers. Feeling licked, Alfalfa counters with another idea, a sky-writing balloon after being inspired by a aeroplane in the sky doing likewise. A keen Darla wishes Alfalfa good luck and Alfalfa gets into the basket of his air balloon, which is pinned to the ground by a rope. The large crowd of kids (including Butch and Woim) look on as the rope which anchors Alfalfa to the ground suddenly unravels and the balloon breaks free. The kids rush to help, whilst Alfalfa cries for help. Darla pleads with Butch to help and he uses his catapult to pop the balloons holding Alfalfa up so that Alfalfa can come back down to earth [see favourite bit].
It all means little however, when the mayor appoints Waldo as the winner of the contest, with shocked gasps from the crowd.... until Waldo thanks "Uncle Frank", the mayor. Hmmmmmm. Not a very "feelgood" ending!