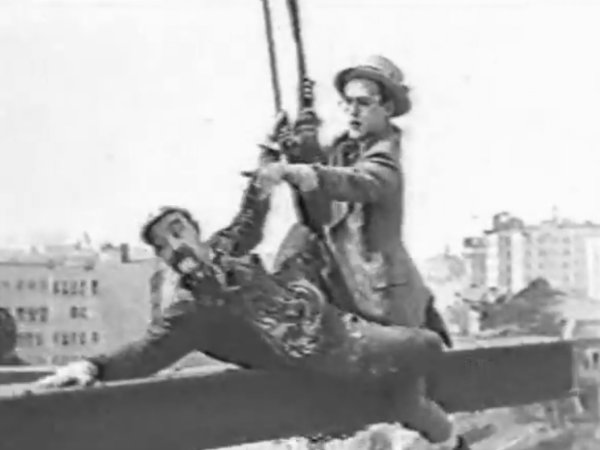 Harold and Bebe are at street level when they are berated by policeman

Noah Young

. Unfortunately they sit down on an iron girder which is then raised by a crane to the top of a building. Harold soon realises how high up he is when he shuffles his feet and cannot feel the floor beneath them. He alerts Bebe to the situation and the two of them panic with fear. Construction worker Snub rubs his eyes in disbelief before rescuing the girl, leaving poor Harold to fend for himself.
In a rare display of anger, Snub turns aggressive towards Harold, threatening to fight him, antagonising Harold further by having his arm firmly around Bebe. Snub then leaps onto the girder, hanging high above the street below to confront Harold.
Down below, the foreman (

Bud Jamison

) witnesses the fracass above and takes a lift to the top of the structure. He escorts Bebe to safety then turns his attentions to the fighting Harold and Snub. Harold manages to climb off the girder to safety, leaving Snub swinging on his own. Snub does manage to climb off and after catching up with an escaping Harold, uses him as a wheelbarrow and steering him back to the swinging girder (see favourite bit).
Harold is lowered back to the ground, much to his relief where he finds the foreman getting a bit overfriendly with his girl. Harold marches over to them as the footage fades to black....