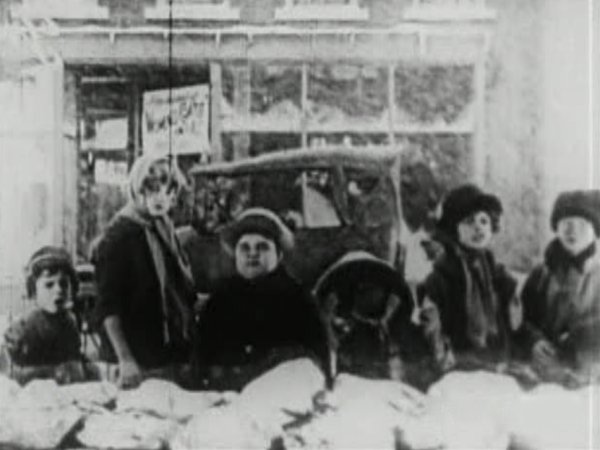 There are extreme winter conditions out there on the Hal Roach back-lot, with a blizzard in full swing. Pedestrians bump into one another and fall over on the sidewalk, as the Gang are happily enjoying a horse-drawn buggy ride, throwing snowballs at everybody along the way. The kids crowd the opening of a store window where the "real" Santa (

Martin Wolfkeil

) is demonstrating some merchandise with four small wind-up toys (real actors in miniature). The show ends and a curtain comes down, with a message saying the next show will start in 20 minutes. Unfortunately, the curtain falls to the floor, exposing the Santa behind it out of uniform and thus spoiling the illusion of Father Christmas for the children who are gathered by.
The kids disperse and it is revealed for the first time that they are all alone, struggling, poor, and cold. Mickey (

Daniels

) takes pity on a boy trying to keep warm by heating his foot, whilst another challenges a bearded passer-by in the street as to whether the man is really Santa Claus? Joe and Farina stand outside a bakery and decide to inhale the smell of the freshly-made warm bread from within. A motorist pulls up and complains about the mud all over his car and offers $10 for it to be cleaned. Mickey and Johnny (

Downs

) don't waste any time in getting to work.