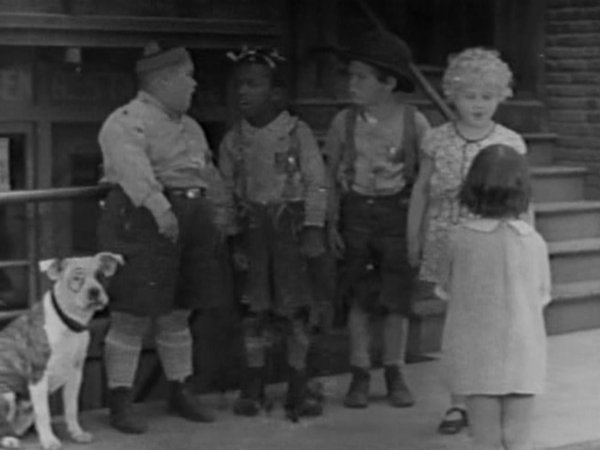 Joe, Farina and Harry are having a box-car race along the street, with their respective vehicles being powered by dogs... until the dogs see a cat! An interfering woman reports the boys for the mistreatment of the animals and subsequently the boys are visited by an animal welfare officer (Hedda Hopper). She tells them to be kind to animals and really sells her point across to the children, who each vow to change their ways. As a reward, the woman bestows upon them the badge of official officer.
The boys take matters a little too far though, when they spot Jean and Mary Ann hurting a defenceless flea and place them under 'arrest'. The grateful flea vows to stick to Joe, after being saved by him. Next up is Wheezer, who is giving the chickens a hard time. Joe is quick to enforce his new powers in reprimanding him. Wheezer takes a nap and in his sleep he dreams of an all-animal jury who convict him of animal cruelty. It's an enormous amount of screen time to showcase some clever animal shots in states of dress, which really brings the film to a crashing halt.
The kids eventually decide to free all the animals - first from a dog catcher's truck and then from all the rabbit hutches on the sidewalk, bringing screaming pedestrians running everywhere as they try to evade rabbits, mice and fleas. In the end Joe gets tired of his pet flea and tries to kill it but fails - instead the flea finds a new home... in Pete's (the dog) fur.