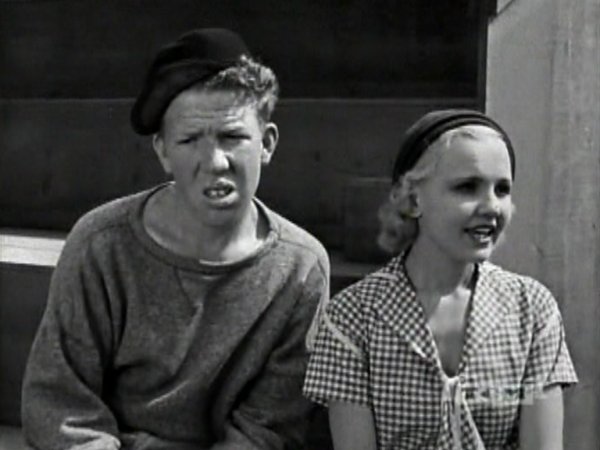 Mickey is pitching and throwing on a baseball field with an animated ball which has a mind of its own. He is so fast that his third throw splits the batter's bat in half. The coach (Harry Bernard) exclaims that he is good enough for the big leagues. Mickey walks off and orders a soda from Sadie, a beautiful young woman whom he claims is his inspiration for how well he plays baseball. But when he gets his finger stuck in the bottle top, the drink fizzes up and drenches the other patrons. Mickey makes a quick exit with Mary, who is waiting outside.
They sit down and Mary reminds Mickey of previous times where he could wiggle his ears (through some photograph flashbacks), and how she fell in love with him. But after two examples, he rips up the pictures, stating he would rather forget about his past. Mickey then seeks Mary's advice in matters of love, asking how would he know the signs. Of course, what Mary doesn't realise is that Mickey is referring to Sadie, the soda shop girl, so she tells him exactly what to do in order for him to show his love for a girl, believing he is talking about herself. When he practices, "Sadie, I love you" in front of her, she breaks down in tears.
Mickey is soon to be the one upset when he stumbles across a newlywed couple emerging from the registry office. The bride is none other than his Sadie - now married to the hulking Tiny Sandford. As the happy couple get into their taxi, a group of wedding guests pelt them with rice and shoes. One of the shoes hits poor Mickey, who returns it to its owner in the same way he received it!