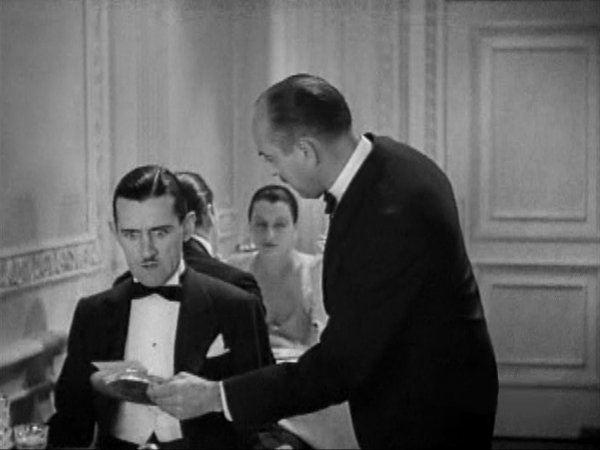 It's evening as Charley walks along a busy street dressed impeccably on his way to a top-class restaurant, when he is stopped by an old friend and taxi driver, Harry (Bowen). Charley tells him that all his life he has wanted to eat at the Ritz Plaza hotel just once, and finally after saving his money he now has the opportunity to fulfill his dream. Pleased for him, Harry offers to drive Charley to the restaurant, which is just a short distance.
Upon arrival, Charley tips the elderly doorman (

Edgar Norton

) a $20 bill by mistake, keeping only $1 for his meal. Charley goes into the hotel and is (eventually) shown to a table by the head waiter (Jean De Briac), who seems surprised to find Charley without a dinner guest. A wig-wearing

James Finlayson

is seated with his daughter Joyce Compton, and her pompous boyfriend at a nearby table. Father Fin asks his daughter, who is staring starry-eyed at Charley, if she knew him, but she confesses she does not. On the way to his table, Charley bumps into (literally) a diner (

Ellinor Vanderveer

) who is returning to her seat.
Charley is seated and carefully calculates the cost of each item on the menu. Across the way, Finlayson is shown a lesson in table etiquette by his daughter's boyfriend, but fails miserably to engage his napkin up his jacket sleeve. The bill for Charley's meal arrives, and it is then he realises he only has a $1 bill.

Charley rushes outside the hotel to seek out the doorman whom he tipped earlier in order to get back the $20 bill he gave him in error.