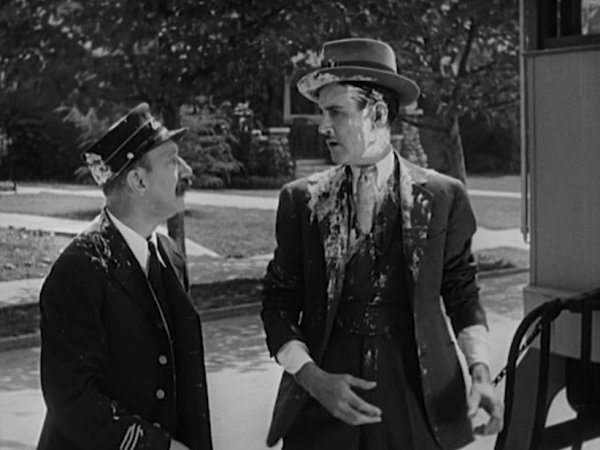 So, Charley, Kitty, Eddie and Kitty's mother decide to go on a picnic, with the hasty marriage still concealed from the mother. Pa's streetcar picks them up and they all board. The niggles between Eddie and Charley continue, and mother gives Charley a piece of her mind over him lacking the ingredients to be a suitable boyfriend for her daughter.
Soon tensions rise and a fight breaks out between Eddie and Charley, first with food and then followed by fists. All the other passengers vacate the streetcar (some through the open windows!) and the fight continues until one big punch from Eddie sends Charley through the front of the car and out onto the baggage rack. Pa tells Eddie that Eddie has killed Charley and sends him back to headquarters to fetch Mr. Foster, the boss.
The boss arrives with Eddie back at the scene and Eddie is fired on the spot, Charley wins $10,000 compensation and all of a sudden the mother and Kitty seem to take a particular interest in Charley. Charley protests to Pa that he was not hurt in the accident, so Pa has to explain that in order to make it look real, Pa clonked Charley over the head with the driver's handle.