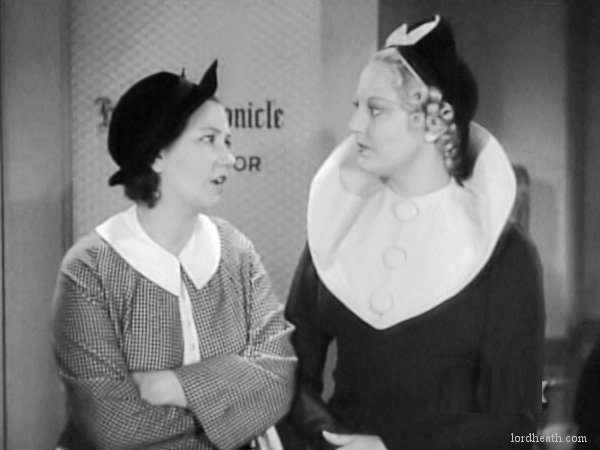 Thelma is a journalist working for the Herald Chronicle and is in the office of the editor, Mr. Benton when he assigns her a story to cover about a professor who designs a new parachute - and is now recovering in hospital. Outside, Thelma suggests that Patsy faints in order for Thelma to call an ambulance so that the girls can catch an easy ride to the hospital, but that idea falls flat. So instead Thelma pretends to faint outside a furniture store as Patsy pleads for help from the many passers-by who all initially ignore her until she screeches at the top of her voice. One pedestrian goes for help as the store owner (Billy Bletcher) comes to the fainting Thelma's rescue by throwing a cooler of cold water over her.
Unimpressed, Thelma gets up and carries on walking down the street. As she looks into a mirror outside a confectionery store, the shopkeeper accidentally drops a metal canopy onto her head, knocking her out. Patsy rushes to assist and an ambulance arrives, taking them both to hospital. When there, Thelma finds the parachuting professor (James C. Morton) and begins to interview him, though in his confused state of mind he talks gibberish and gestures with a piece of paper of how he managed to fall to the ground and injure himself. Thelma promptly makes her excuses and walks out (notice the stiff Edgar Kennedy-esque reaction she makes before leaving the room!)
Elsewhere, one of the nurses (Bess Flowers) congratulates the head nurse Dr. Smith (Grace Goodall) on delivering six babies within an hour. The nurse telephones reception to tell her and Patsy overhears the part about "six babies" and gets the great idea for Thelma to use the story as her scoop for the newspaper.