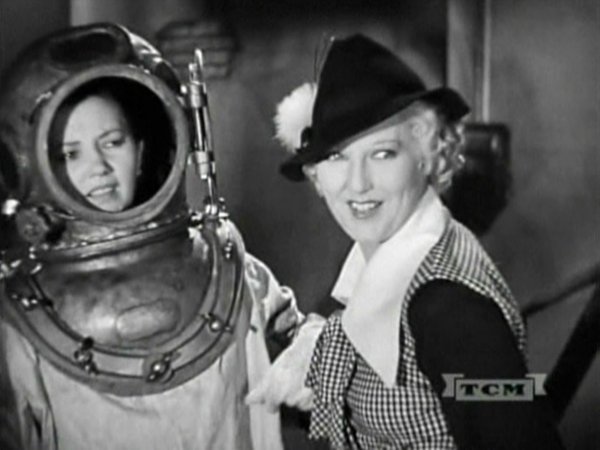 OK friends, it is high time to put your suspension of disbelief into full throttle mode as Thelma and Patsy (with Arthur Housman and their canine companion in tow) go deep-sea diving for hidden treasure!
Our story opens with Thelma making pancakes in a store front window. Her prowess at flipping them is demonstrated to a hungry audience just outside the luncheonette window. When boss Sam Adams orders Thelma to get rid of her wod of chewing gum, she hides it on the telephone receiver. Meanwhile, back at the flat, Patsy is reading the want ads for employment, to no avail. Then she receives a telegram indicating that her late uncle has left her his entire fortune. Patsy calls Thelma at work to tell her the news, but the boss answers the phone and now has Thelma's wod of gum in his ear! When her shift is done for the day, Thelma returns to the apartment to find Patsy in a bathtub full of water, practicing her diving skills in the diving suit willed to her by her late uncle (Jimmy Finlayson)... I am NOT telling just HOW Fin appears in this film, you will just HAVE to see for yourself, for it is the clever highlight in another wise mediocre installment in this series.
Anyway, loads of slapstic situations take place as Thelma tries to get the diving helmet off of Patsy's head. They end up at plumber Arthur Housman's for him to see what he can do about it. After some failed attempts, he invites himself along and the three of them are next seen aboard a tiny little boat with the identical rear-projection of the ocean as seen in "Saps at Sea".
Patsy goes down and has a duel with a sword fish. Thelma (looking adorable in her nautical outfit and sailor hat) communicates with Patsy via cell phone! (well, by 1934 standards)... noting that she is in need of air. Arthur over-inflates Patsy's suit and she soon floats up and out of the water like a balloon.
Arthur decides that he will give it a go, and when below, finds a 'treasure trove' of Old Gold... champagne... lol! The girls somehow rip Arthur's diving suit off and scurry about to bring him back up. In doing so, Arthur's foot manages to grab onto the treasure chest and he unknowingly brings it up with him. Our trio is all delighted with their find and dance about in celebration, only to have the treasure chest fall back into the ocean... with Patsy, Thelma and Arthur all going after it and into the closing credits.
Well, there had to be an eventual 'clunker' among the bunch... and while certainly not the worst, this installment is indeed several rungs down the ladder.