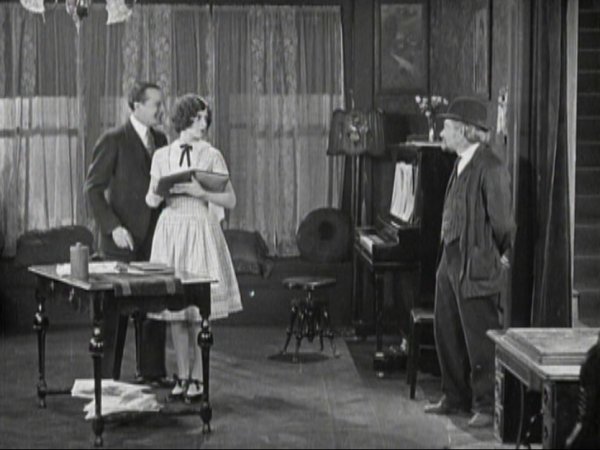 Gimplewart's daughter (MARTHA SLEEPER) wants to marry her attorney boyfriend (GASTON GLASS), but Papa has other ideas and tells the potential husband that only when he wins his first case will Papa give his blessing. The Gimplewart son, Abie (JESSE DE VORSKA), suddenly finds himself in the truck business after Papa buys him one. But Abie's first experience of driving the truck is to reverse it into the shed. His second is raising the back and ripping open the bottom of Papa's house as he passes underneath it, spilling his bathing younger brother, Junior, out onto the ground.
An unsuccessful attempt to audition for a Charleston dancer post leads to Papa and Junior witnessing the aftermath of an automobile accident. Unseen by the crowds, Papa encourages Junior to slip into the wreckage of the car and await rescue from an ambulance crew, whom are none the wiser. It's a deliberate ploy to fake paralysis.
Two insurance men arrive at the Gimplewart house to examine the patient, to determine whether he is actually injured. A clever scheme by Papa sees him substitute his son's leg with a prosthetic, so that when it is banged hard, the leg will not move. The first man (FRED KELSEY) is shocked to witness the apparent lack of feeling in the boy's leg and calls for his assistant (EUGENE PALLETTE) to see for himself. However, in the panic, Junior moves and the false leg is quickly ditched. The two insurance men then take turns in throwing a sharp pen into the boy's leg.