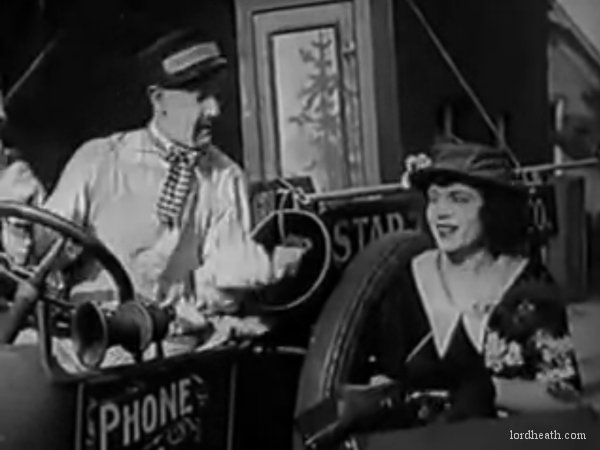 The dance schoolmaster informs his students they are getting a new instructor who is very talented. The girls start to practice their dance routines. Meanwhile, back on the farm, our fair maiden, (Marie Mosquini) is preparing to leave for the big city to pursue her dream of becoming a professional dancer. As her friends wish her luck and farewell, her boyfriend (Eddie Boland) gives her a fond good-bye kiss. The farm manager orders the boyfriend to get back to work accompanied by a good kick in the pants.
Snub and Ernie run a transfer service which is transporting some household goods and a goat to a house. Unloading the truck, Snub places a huge trunk on bent-over Ernie's back, the weight of which forces him to the ground. Ernie complains to Snub that he's being treated like a mule as he trudges off with the trunk while Snub follows carrying only a parrot in a cage. Arriving inside the house, Ernie flips the trunk off his back but is unable to straighten up. Snub does his best to help Ernie trying to pull him to a standing position. When this fails, he resorts to stomping on the highest part of Ernie, forcing him to the floor and straightening him out in the process. When the lady of the house asks Snub where the cat is, Snub shows her the cat in the bird, cage. When she inquires about the parrot, Snub replies the bird is in the cage along with the cat so they will feel comfortable. This upsets the lady of the house who promptly has Snub and Ernie thrown out of the house.
After getting back in the delivery truck, Snub and Ernie drive off. At a near-by street corner, Marie steps off the curb into the path of Snub's truck and stops to look both left and right and then at the address written on the paper she is carrying. As she is blocking his way, Snub tells her to make a effort to move her legs. As she continues to look around trying to decide which way to go, Snub uses a pole with a hook to pull her out of his way. She shows Snub the note with the address on it and smiles sweetly at him. Totally charmed by her, he tells her to get in and he'll deliver her to the address. With her climbing into the front seat, Ernie is displaced to the back of the truck which in turn forces the goat out on to the ground. Off they go, the goat trying his best to stop them by refusing to move his legs and being dragged behind.