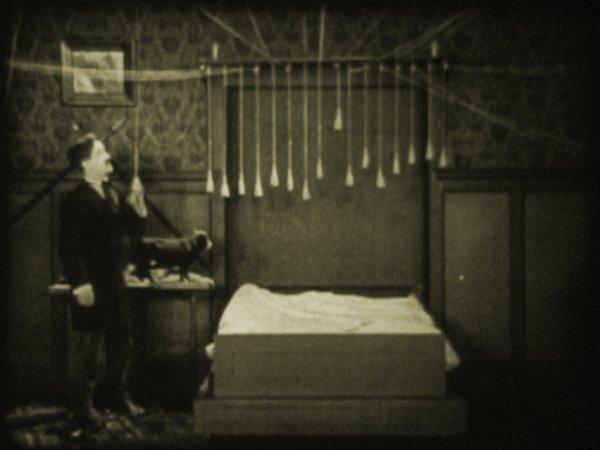 Our story opens with a "Meeting of Oil Magnates ~ Brokers, Promoters, Financiers ~ and a few Honest Men." being fronted by the chairman Weller Pump (

William Gillespie

). Outside in the street, a crowd of men are peddling their oil to anyone who they can entice, whilst inside the board room a decision is made to get Inventor (Snub) Pollard to demonstrate his substitute for gasoline to attract customers. Only problem is Snub is lazy and relies on an assortment of self-made inventions to get himself out of bed in the mornings.
These include an alarm clock with a feather attached to tickle his bare feet when the alarm is activated; another is a rope above his bed which is pulled to stop the alarm, and another starts his breakfast by swinging a lever to light a match on a rotating gramophone player and lighting the toaster for him. Hell, he even has a chicken in a cage above the cooker which can drop an egg or two on cue. Top this off with a plastic cow whose tail you have to pull in order to extract milk into his cup of tea and the routine is complete! Even the postman attaches the mail to a piece of string and throws it into the upstairs window for Snub.
The letter informs Snub that his services are required by the Onion Oil Company, which finally prompts him to get out of bed and get dressed (again through using a series of conveniently-placed ropes and clothing.