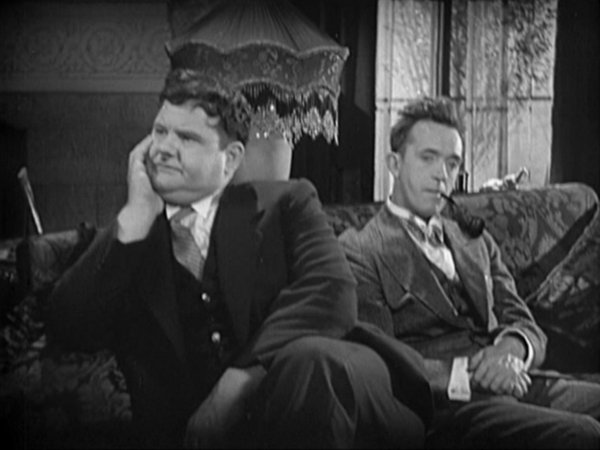 The two wives (Vivien Oakland and

Bess Flowers

) are in the kitchen playing cards at the table, whilst their husbands (Hardy and Laurel respectively) are in the living room on the sofa. Ollie is aggitated, though Stan is more relaxed as he sits smoking a pipe. Ollie reaches over and takes Stan's pipe out and throws it beind the sofa, as the wives look on. The women can see that their men are up to something, a plan they are formulating between them.
The telephone rings and Stan answers. A few nervous moments later, and with the suspicious wives in close proximity, Stan offers the phone to Ollie. Ollie realises the call is a demand to attend a poker game they had previously agreed to attend. As he doesn't wish to arouse suspicion with the wives (a little too late for that), Ollie pretends he is speaking with his boss. He emphasises the phrase "boss" several times during the call whilst casually looking over to guage the wives' reactions. After the call, Ollie announces that his "boss" wishes for he and Stan to go to the Orpheum Theater. The wives say nothing and the men kiss them goodbye. Stan and Ollie walk to the front door, with the women closely behind them.

Stan opens the door abruptly, hitting Ollie in the face. This is followed in quick succession with Ollie walking outside and falling over a hedge.