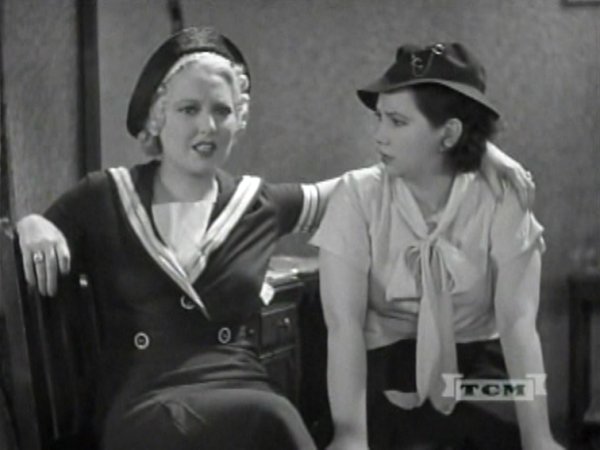 Our story unfolds on a sad note (beautifully underscored with a familiar LeRoy Shield ditty)... Thelma is in tears for the fact that she has been in Hollywood for quite some time, but still had no promising offers to speak of. Patsy doesn't help any by reading the newspaper headline declaring "Joplin Girl Makes It Big In Hollywood"... referring to Thelma.
In a rare moment of sympathy, Patsy realizes that Thelma is truly upset. Facing reality, Thelma and Patsy pack up and get ready to move on, for Hollywood isn't as promising as it was thought to be. Just to rub things in and make matters worse, a young woman enters the girls room and brags about her upcoming screen test that afternoon. Patsy follows her out the door, locks her in a broom closet, and telephones the studio telling the assistant director that the blonde they hired couldn't make it... and suggests they try out Thelma instead. Returning to the room, Patsy continues to console Thelma when the telephone rings. Thelma has a most curious and humorous conversation on the phone... it's the studio calling and they want to try her out for a screen test.
In helping Thelma get changed, Patsy gets Thelma's dress caught in the suitcase and oodles of slapstick situations take places (mostly caused by Patsy). Patsy helps Thelma get her coat on for she is sneezing profusely from the opened window. However, her coat is ruined because Patsy put it on her, hanger and all! Thelma takes Patsy's overcoat instead. Patsy inquires what she is going to wear, to which Thelma retorts nothing, because she isn't going with Thelma to the studio.