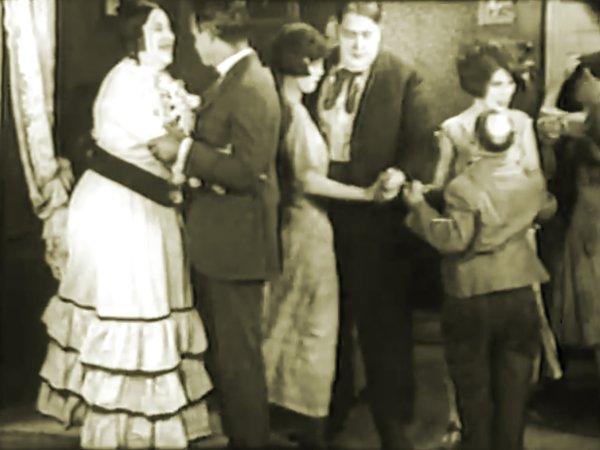 As he puts on his jacket, he notices the lone unbuttoned button, and proceeds to fix the problem - this time the button at the bottom is lone. Snip, snip, go the scissors. He buttons up the jacket, puts on a bowtie, and slicks his hair back with some "Rose Bloom Hair Food." He dons the hat, and bends the brim in a few places (almost looking Jubilo-esque) before deciding to go unbent. He finally exits the room and attempts to mount his horse, but finds it difficult with his tight pants; he drags the horse along by rope, feeling discomfort and rubbing away shine-blocking dirt on his new shoes. He then grabs a milk cart and uses it as a stepping block, allowing him to mount his horse.
Cut to the dance. Everything is in full swing as Slickey enters, attracting the attention of Gussie, and makes his way over to the Teacher as Bill makes his way to a whole block of stacked milk carts ("Gee! it looks like everybody wore their tight fitting pants tonight," he observes). He adds his to the block, ties up his horse and enters the dance, prompting the four fellas to laugh at his slicked-up appearance. The band begins the play (with

William Gillespie

on the violin). Slickey and the Teacher dance, as Gussie makes her way over to the (perhaps understandably) ever-recalcitrant Bill. The Teacher seems to eyeball for Bill, who is stiffly held in Gussie's arms. Bill lightly steps on her toes, as Gussie proclaims, "I could just die dancing with you, Willie!" "No such luck!" Bill shoots (or perhaps thinks) back. The music finishes and the crowd applaudes (

Charlie Hall

front and center!). The Teacher and Slickey talk as a shady-looking fellow (

Jack Ackroyd

) sneaks by the door and motions for Slickey, who excuses himself, the Teacher remaining oblivious.