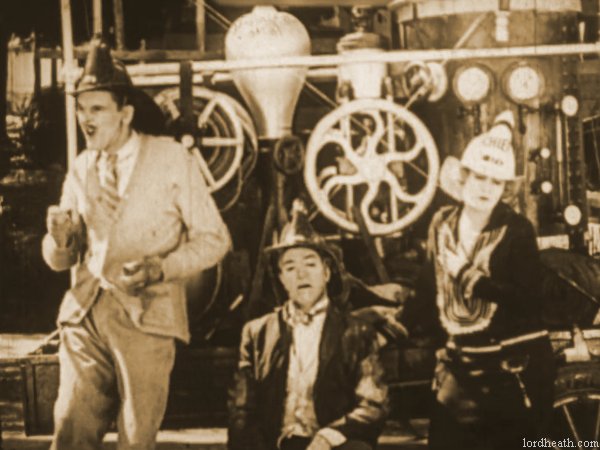 From the footage available for review (approximately 7 minutes)
The Spats have acquired a new fire engine which they put in their garage. The three of them go outside to set a small fire as part of a fire drill. Ambrose gets into the truck and sets out to put out the fire but instead reverses through the garage and out into the yard. They get the truck to stop and use the hoses to try and extinguish the flames of the fire they started. Water shoots out of the engine in all directions before the truck takes on a mind of its own and drives off out into the street. As the three of them attempt to get the machine under control, which includes running over a fire hydrant and causing the water from it to propel Tewksberry into the air, the fire they started earlier spreads to their open window and sets fire to the curtains. Ambrose rushes over to turn off the water from a stopcock by the side of the road, bringing Tewksberry down in a wet heap.
Later, with Ambrose still unable to get the fire truck under his control, the family come upon their home to see it burning to the ground and several people runnig around trying to put out the fire. They each try to use the resources they have from their fire truck but the hoses don't reach. Ambrose tries to get the truck nearer to the house but ends up driving through it. If that wasn't bad enough, Tewksberry grabs a hose to put out the flames but doesn't notice that it is in fact a petrol hose.... well you can guess the rest!