Facts
•Filmed August 7-19, 1933.
•The name of the chimpanzee is 'Jiggs'.


•During the filming of this both Stan and Ollie reconciled with their respective wives.
Did you notice?

•According to the butler the professor had been working on his invention for over 20 years.
•The cuckoo clock reads 3 o'clock, which is when Stan and Ollie arrive. However in the next scene when they are preparing the fireplace with the sheet Ollie removes a clock from the mantle and it reads ten minutes to one.
•When Stan replaces the blanket over the fireplace for the second time he briefly grips the top of it with his teeth.


•The clock on the mantle that Stan pulls down continually chimes for 21 seconds before he hits it with a shovel.

•When Stan pushes the pole with the brush up into Ollie's face, causing him to fall backwards on the roof, it is clearly not Oliver Hardy who does the stunt. Also, did you notice where Ollie's hat lands as he falls through the open roof door? Convenient!
•When Ollie flies off the roof and into the greenhouse he falls face first. When we next see him his is lying on his back. The logistics of which do not add up.


•Six bricks initially fall on Ollie's head when he sits in the fireplace.


•As the boys are clearing up Stan comments on the painting above the fire place which features an ocean scene. He says "I wonder if there's any fish in there?" In real life Stan was a keen fisherman.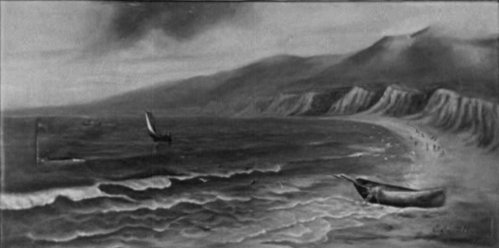 •When the mad scientist is looking for his butler he asks Ollie "Where is Jessup?"
Hardy replies "About 35 miles south-east of Augusta, Georgia." He should know, he was born not far from there!
♦See Jesup, Georgia, USA on Bing Maps.
•No money or wages are paid for the (poor) work the boys done on the chimney. Mind you, it was probably held back to pay for all the damages and repairs needed!!


•It's Ollie who takes the fish out of its tank for the experiment.