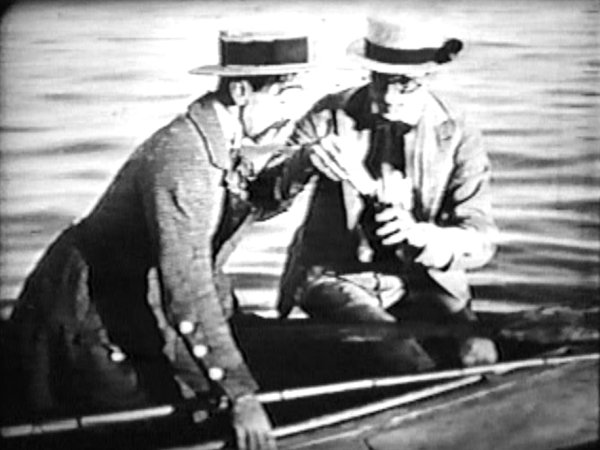 Harold and Snub are in a small canoe fishing on a lake when Harold spots a bottle in the water. They read a message inside which points to buried treasure on Rainbow Island. Ten days later they arrive on the island to find the gold. After taking a probably much-needed drink from a stream they encounter a tribe. Their leader sends them away on the backs of the tribesmen to a hut and then sends for the queen to decide whether she prefers her meat to be light or dark. The queen apparently chooses Snub as her choice of dinner, with Harold free to come and go as he chooses.
The tribe try to fatten Snub up with a banquet of food to get him ready for the queen. Snub escapes and rejoins with Harold to fight off a hefty tribe member with some cleverly manoeuvred antics, which includes a synchronised falling backwards off a bench and Harold pushing the man over a crouching Snub onto the floor. Another tribesman makes an attempt to grab Harold and Snub but he ends up upside-down in the cooking pot for his troubles. A larger tribesman makes one last attempt to apprehend the men but he too falls victim to their desire to stay alive.
Harold and Snub return to their canoe and row quickly away from the island and that is that!



Identification of the cast is difficult due to most of them being in blackface, some of the film being missing and the quality of the print used for review.