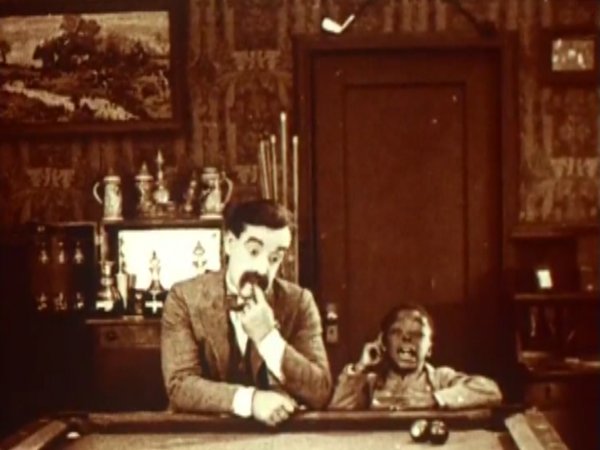 The meeting is in session, with

Marie Mosquini

giving a passionate speech in front of a group of women. The film cuts to

Snub Pollard

shooting pool, being assisted by black boy

Ernest Morrison

. The boy hands Snub a wonky stick in place of his pool cue, then a golf club. Snub stands on the table and uses the club to putt a ball into the middle pocket.
Cut back to the meeting where the ladies leave, with Marie standing alone, whilst Snub begins a new game of pool, shooting every ball into the corner pockets in one shot. Snub then sits in a cleaning cart as the boy pushes him into the adjacent room, where the women's meeting has just finished.
In the next scene Snub makes himself rather at home, taking a newspaper into the sitting room and putting his feet up, but Marie isn't having any of it and takes the paper away from him. So instead he lights up a cigar, but again Marie stops him. Unperturbed by her interference, Snub pulls out multiple smoking devices but then is chased around the house by her. In the kitchen Snub leaves his cigarette in the end of a speaking tube then goes back into the sitting room where he smokes through the other end of the tube (ingenious gag - see favourite bit). Marie catches on to what he is doing and so substitutes some pepper for the cigarette on the other end of the tube, causing the inevitable sneezing fit from Snub. Snub continues to annoy Marie by shooting some more pool whilst being continually chased around the house until she finally catches him and escorts him away by way of a pinched ear.