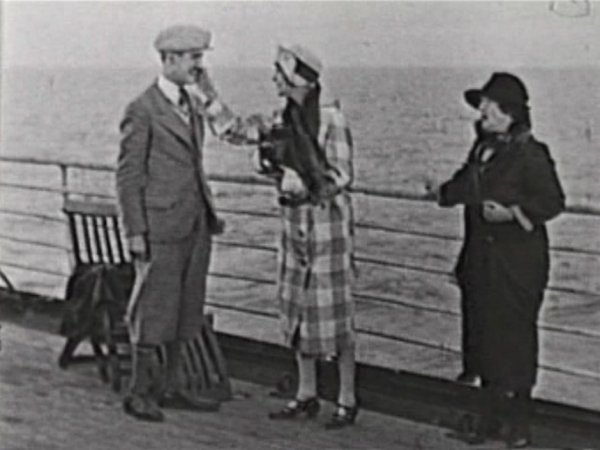 The film starts on a boat with Charley and some ladies having fun. He gets up and walks off to sit on a deck chair when another guy comes along and kicks the legs off the chair. Charley punches the man in the face, sending him hurtling into some chairs. A seaman (this could be

Ham Kinsey

?) delivers Charley a telegram and Charley tells him he is spoilt for choice over which invitation he should choose.
One of the ladies on board the boat, Miss Glutz (

Gale Henry

) begins to engage in conversation with a fellow on deck when a sailor (

Chet Brandenburg

) comes by ringing the dinner bell, causing her to freeze on account of a previous car accident where she is shocked into a trance by the sound of a bell. Determined to take Charley's photograph, she gets into position to take his picture when the sound of the bell causes her to freeze again as Charley patiently waits. Her mother (I am assuming it's her mother?) informs Charley of the situation and eventually Miss Glutz takes his photo.
We are introduced to "The Girl" (

Eugenia Gilbert

) who is at home, bored and being 'entertained' by her suitor (

Vernon Dent

) playing the piano. Her well-to-do parents are delighted to note that Count Tosky (Chase) has consented to be their guest. Well, the mother is excited, at least! The father (

Burr McIntosh

) is not so.