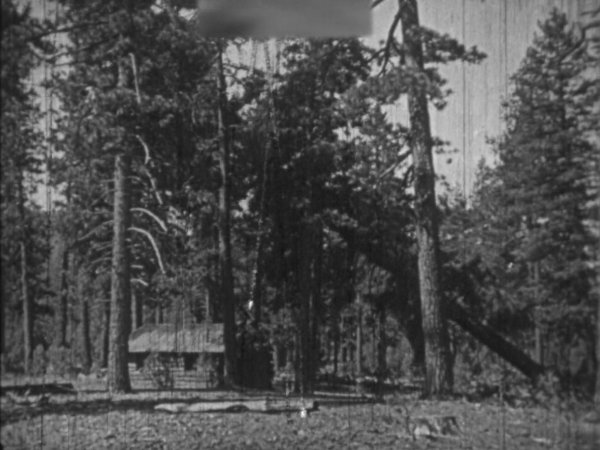 FROM THE FOOTAGE AVAILABLE FOR REVIEW:
The Spat's are out camping in the woods for the weekend when Ambrose finds a horseshoe on the ground. He nails it above the door (upside down) whilst Tewkesbury heads off to chop some wood for the fire. With the smallest axe, he chops down the tallest tree - which falls directly on their cabin. Miraculously all three of them emerge unscathed from the rubble. It's then off to the river for a spot of trout fishing, after which Tewkesbury sets fire to all their clothes when he hangs them over a fire. Wondering how they are going to get home in the state they are in, they spot a group of six men down by a river and after sneaking up on them from behind, they throw a rock into the water to distract the group. The men jump into the river whilst the Spats creep around to the camp and take all of the men's clothes. This leads to a chase down some railway tracks where Mrs. Spat and Ambrose jump onto a moving train with Tewkesbury failing to make it as the train goes into a tunnel (see location shots below).
Tewkesbury does finally get on the train but as he, his wife and Ambrose climb up onto the carriage roof they are spotted by the railroad bull who chases them. The three of them take refuge between two carriages under the train until it stops to take on water. With their run of bad luck continuing the water is unleashed all over them, forcing them to get off the train whilst the bull continues to chase them. The final scene finds a policeman who arrests all three of them, handcuffs them all together and leads them away.