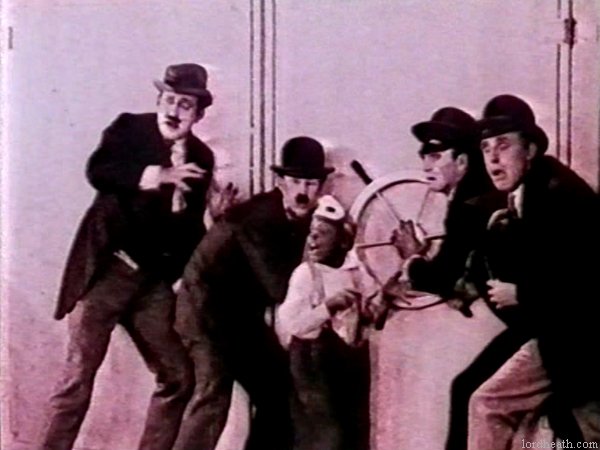 From the available footage I was able to review (approximately 4 minutes 13 seconds):
A barrel of gold nuggets is rolled into the safe deposit in the bank by Sammy Brooks and Tiny Ward, whilst Paul sits in his office laughing at a comic he is reading. He is joined by his girlfriend Ethel Broadhurst who sits and laughs with him until her father, the Bank Predisent (Mark Jones), comes in and breaks it up. Paul leaves the building and sees two false-beard wearing, shady-looking guys arguing on the street corner. One of the men is shoved into the way of an oncoming streetcar but he is rescued in the nick of time by Paul. Paul hands over some money for what appears to be floor plans to the bank.
In what then appears to be a separate segment of the film, four men and Sunshine Sammy enter the bank wearing bandit masks looking just a little bit obvious. When they hear the manager approaching the robbers take up their positions within the large frames of paintings against the wall to blend in with the surroundings. The manager and his daughter emerge from their office and don't notice them. Outside the bank in an alleyway, Paul uses the floor plans to start digging a tunnel before ending up in the vault (wow, that was a really quick tunnel he dug!) The manager sees him emerge through the hole in the floor and traps Paul inside the room with a bomb for company before making a quick exit. Paul somehow shows up outside where the manager bumps into him as the bomb explodes inside the bank. The five men inside escape through Paul's tunnel but turn back when they see a cop waiting for them. They think they have escaped for good when they are shown through an open door in the bank but it's a trap, as it turns out to be the back door of a police truck which then drives the crooks away. The film ends with Paul leading the girl off to get married.