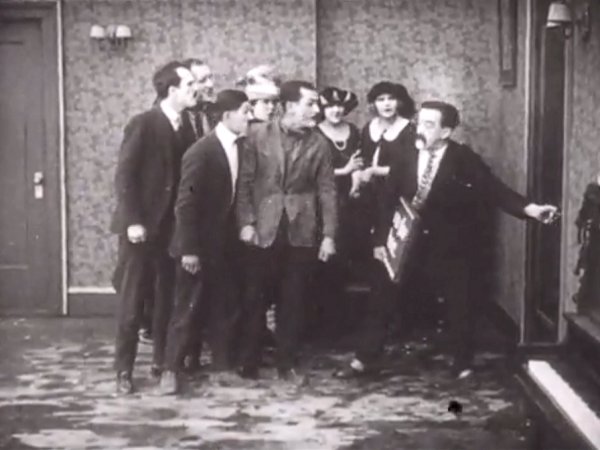 From the footage available for review....
Snub drives into a large muddy puddle in the road and asks a group of guys standing nearby to push him out. They get covered in dirt of course, but a few yards later and Snub drives into another, larger hole - the men walk away before they are asked a second time! Snub arrives at his newly-purchased house to find his wife (Marie Mosquini) waiting for him, along with the real estate man (Noah Young). The couple celebrate their new home and the skies open up. Later, as Snub leaves the house he finds a small lake has surrounded his property and after falling in, returns indoors to find his wife trying to light the stove as water sprinkles from where the gas flames ought to be. Water pours from the walls as the rain continues to fall outside (despite the blatantly obvious sun).
Snub later returns in a small canoe with some guests. It doesn't take long before they all get wet. As one guest (Vera White) sits under a water leak which makes the flowers in her hat grow; another guest (Mark Jones) gets a face full when water shoots out of the wall. Snub opens a door and the whole room fills up with flood water immediately, making it every man (oh, and woman of course) for himself (and herself) as they quickly try to leave. Snub saves the cat, then retires to the bedroom with his wife but when he opens the window more water rushes in. He props up a painting on the wall and helps his wife up onto the top of it so that she has a dry place to sleep, whilst Snub takes refuge in his own, wet bed.