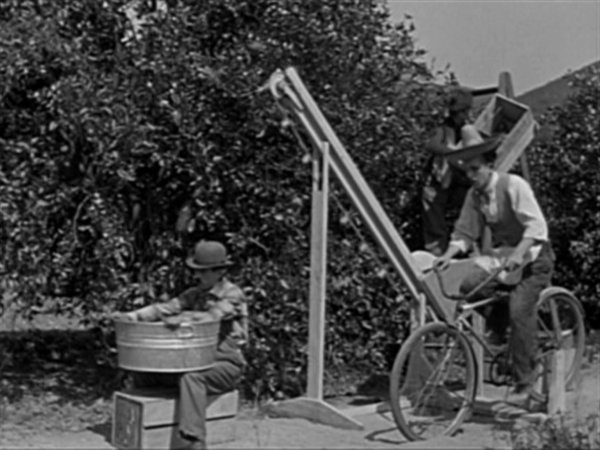 This one begins with a humourous intertitle card "some lemons on trees, others in the packing house", as a group of workers box fruit in a warehouse. Our hero, Sunkist (

Laurel

) is introduced outside in the citrus groves via a title card which describes him with "a sunny smile and a foggy mind". Stan is riding a strange contraption: a stationary bicycle with its rear wheel raised so that his peddling acts as a conveyor for the apples which are being loaded by a fellow worker and collected into a large tin by cross-eyed worker

George Rowe

beneath.
The worker collecting the fruit from the tree notes that George has seemingly fallen asleep and informs Stan, who throws an apple at his head to wake him back up and the two men exchange places with George now peddling the bicycle as Stan sits under the tree to collect the apples. Not a good move as apples begin raining down on Stan's head. After a few apple-knocks Stan gets up, dazed, and pushes George off the bike. George retaliates by throwing apples at Stan which begins an all-out fruit-throwing war.
The boss (Eddie Baker) is brought into the story, sitting quietly and minding his own business reading a newspaper under a nearby tree. Naturally, he receives a few wayward apples to his head!

The boss investigates the mystery of the flying apples to find the workers completely embroiled in what resembles a snowball-throwing competition with apples!