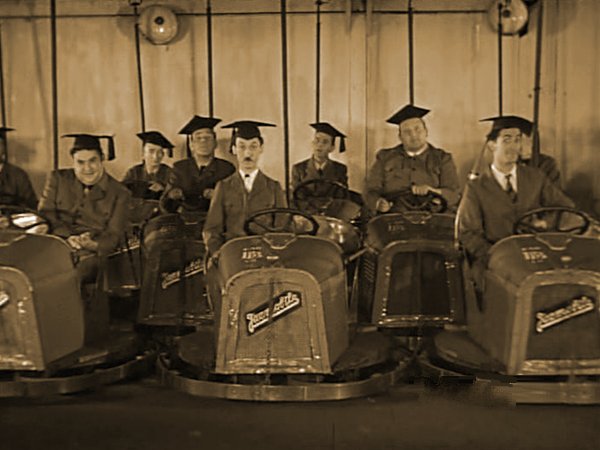 At the Black & Blue Taxi Cab Company, the candidates are given a simple test to qualify them as taxi drivers. They are asked what to do if their cab was parked in front of a fire hydrant and saw a policeman coming. Ben Blue takes centre stage and makes a complete fool of himself (as usual), but it's Charley Rogers who gets the answer correct. Well, sort of.
A mad bumper-cars mele ensues and two cabbies are catapulted out of an upstairs window and down onto the sidewalk below. On the docks, the cabbies are cleaning their cabs when a customer hails for one of them. A mad rush involving every single cab then takes place as they all rush towards him. Thinking he has picked up the fellow, cabbie Billy Gilbert takes off in his taxi before realising he is carrying fellow-cabbie Charley Rogers.
Ben Blue is approached for a ride but he spends all day trying to open the passenger door for the couple and subsequently loses the fare.
A shifty-looking couple (an almost-human looking Richard Cramer, who even SMILES) arrive on a ship. He is Diamond Joe, a smuggler with a ruby, which he conceals inside a packet of cigarettes before being frisked by a customs officer.