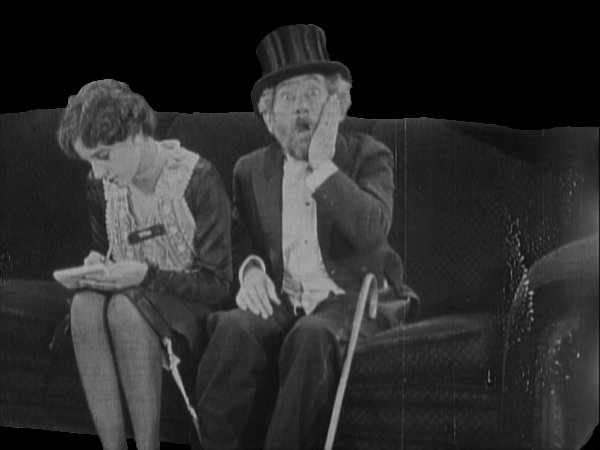 THE FOLLOWING REVIEW IS FROM THE FRAGMENT OF SURVIVING FOOTAGE...
Through a series of intertitles and screen stills, it is established that two men, 'Happy Hopey' (Oliver Hardy) and 'Cherokee Cohen' (Max Davidson) are panning for gold in a small river when they are approached by a prospector. They sell him the mine for $10,000 before heading off to a swank hotel. As they enter Hopey crouches to observe several young ladies who are seated in a row and showing a considerable amount of leg. Hopey offers to introduce his friend into the realms of society, so Cohen then flirts with the telephone operator (Viola Richard) before inadvertently getting her fired. Feeling guilty, Hopey offers the girl money and tells her to "doll yourself all up like a zebra".
Next, Cohen invites a stenographer (Martha Sleeper) to sit beside him on a couch. As she takes notes his foot manages to repeatedly catch an elastic strap on the bottom of her dress which yanks it closer to him as he moves his leg. She reprimands him for this and initially the pair laugh it off as accidental. Eventually he realises the predicament and reaches down to unhook his leg from the strap, brushing his hand against her leg for which she physically removes him. Hopey enters the situation to save the day but as the young lady gets up she (apparently) falls and is promptly fired by the boss. Cohen offers to buy her dinner as a consolation.