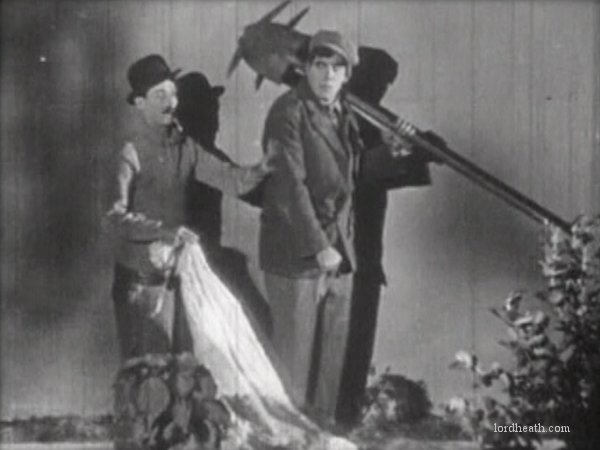 Review is from 10 minutes of the film available to me:
A young couple sit on the sofa and listen to a black lady reading their fortunes through the tea leaves in her cup. She tells of graveyards, tombstones and ghosts. Meanwhile Professor Sniff (Finlayson) is an eccentric, bearded man who reads in the newspaper of how the medical world mocks him, saying "the Professor wouldn't know the difference between water on the brain and rain on the roof"! The outraged professor barges into his lounge and demands that his daughter's fiance go to the cemetery and bring him back a body. When he refuses to do so, the young man is booted out of the house and told to stay away from his daughter.
Outside two burglars (Cook and Young) are scheming to get into the house, which they do through a very unsecured window. When inside they work on opening the safe but are caught in the act by the professor. In an unexpected twist he offers them a reprieve and $1,000 if they are willing to go to the cemetery and bring back the body of Hemingway Toots. As the boyfriend throws a note through the girl's window, telling her he is coming to get her so they can elope, the two burglars make their way to the graveyard. Cook gets scared when he hears noises coming from the graveyard (it is the boyfriend hiding in the bushes) but Young insists he carries on digging up the grave. That is until the graveyard keeper comes along and escorts him off the premises. Unfortunately, that is where the footage ends....