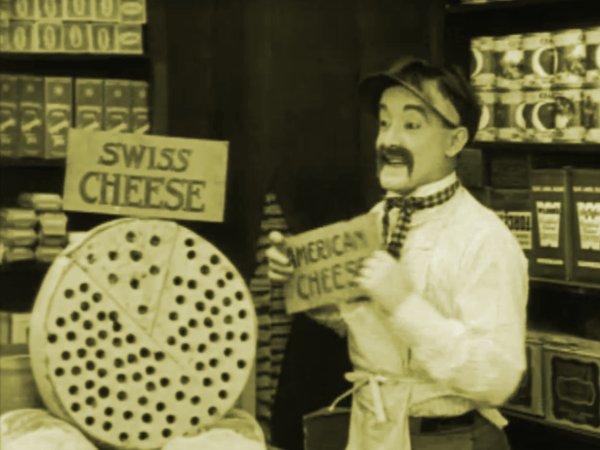 [review is from a 4 minute fragment]

Snub owns a small grocery store (and a machine gun, apparently). He uses the gun to shoot holes in an American cheese and then changes the label over to "swiss cheese". Meanwhile, five gents sit around his stove reading newspapers and simulaneously spitting on it. A lady customer comes into the store to buy a can of beans, which Snub throws to his assistant (Marie Mosquini) to wrap, before she throws it back to him. In comes shop assistant Noah Young; and very shortly afterwards, out goes Noah Young - fired for accidentally hitting the customer with a pie. Noah decides to open a rival business next door to Snub, and hires the five goons to start stealing the stock outside Snub's store.
Not content with this, Noah decides to cut a massive hole in his (very thin) wall with a knife which exposes the shelf contents of Snub's store on the other side. When a customer (Vera White) comes into Noah's store and asks for some items, Noah simply grabs them off Snub's shelves, much to Snub's astonishment. A few days later and Snub's store is completely empty. However, he still has his assistant and a roll of cash in the safe. That is until he sends it flying through the wall and into Noah's hands! Result. Well, not if you're Snub Pollard....