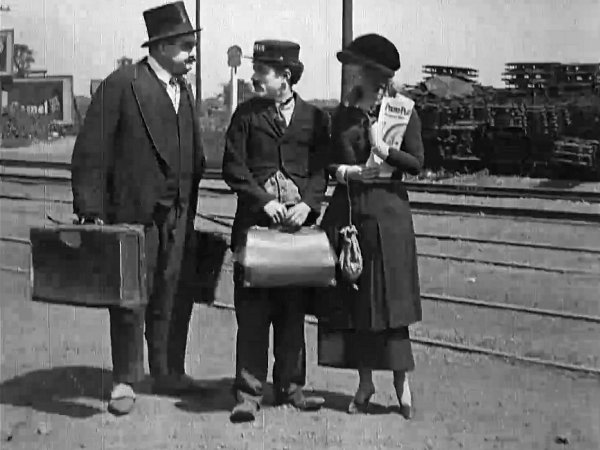 The film opens in the lobby of the Globe Hotel where the desk clerk/owner (Budd Ross) is addressing three members of staff: the cook, the waiter and the bellboy. It is obvious from their reactions, particularly the cook (Leo White) that whatever was said did not go down too well and as a result, they simultaneously quit. They storm off into the adjoining kitchen where the maid (Blanche White) is on the floor scrubbing the floor, then leave.
A messenger brings a telegram into the lobby, riding his bicycle, which informs the hotel clerk that a dramatic company are due to arrive shortly for their reservation at the hotel. The clerk isn't happy to have lost his staff, and goes outside to look for them. As he does, he discovers the hotel's only guest (Billy West) trying to make his escape from a first-storey window. The clerk ushers the guest back into the hotel via the kitchen, though the guest does dome ushering of his own by pushing the clerk around. The guest and the maid get friendly before the clerk collars him and warns that the guest will work out his board or face jail.
The guest now acting as a porter goes to the train station to meet the new guests and immediately falls for the leading lady of the outfit (Ellen Burford), much to the annoyance of the boss (Babe Hardy). The three disgruntled employees who had quit the hotel earlier are at the station, armed with a knife (I think this is Joe Bordeaux) and attack the guest, who fends them off. With the seven new guests checked into the hotel, and after their luggage walks up the stairs all by itself, they are shown to their rooms. The first call for dinner and everybody rushes out of their rooms like a stampede before descending to the dining room. The first order is for a glass of fresh milk, so the newly-promoted waiter fetches a cow from a storage room and milks it. The second order is for ham and eggs. You can see where this is going, right?