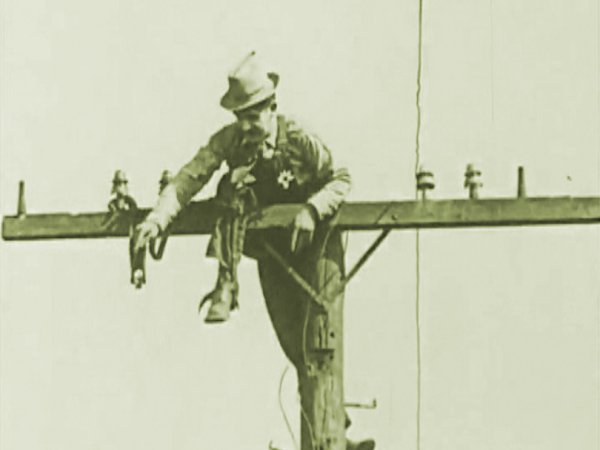 plot summary from approximately 4 minutes 16 seconds of available footage:

Paul (JAMES PARROTT) is sitting in the rear of an opened-back truck which is being driven by his cross-eyed foreman GEORGE ROWE. When Paul waves to a woman on the street he falls from the vehicle, conveniently at the spot where the two men are due to work on installing an electric cable on top of a pole for a new home. The two men become entangled in the cables down on the ground before George climbs the pole first. He comes back down and Paul goes up, getting a shock at the top. After Paul comes back down (in a clumsy manner) he becomes entangled again in the wiring as George drives the truck forward, hoisting Paul back up the pole before it comes crashing down to the ground.
Paul's clumsy behaviour doesn't stop there; as he bumps into a man on a ladder (I think this is MARVIN LOBACK) and then almost electrocutes the new home owner (NOAH YOUNG). Paul proceeds to wire the house in a maze of wires linked together in such a fashion they resemble a large spider's web in the centre of the room. A chase ensues involving Paul, George, and the two men at the house (Young and Loback), resulting in Paul electrocuting them all (on purpose it seems!) before he casually strolls off down the street. With a cable still attached to his shoes, he walks across a tram line and connects with the live wire. You can guess what happens next!