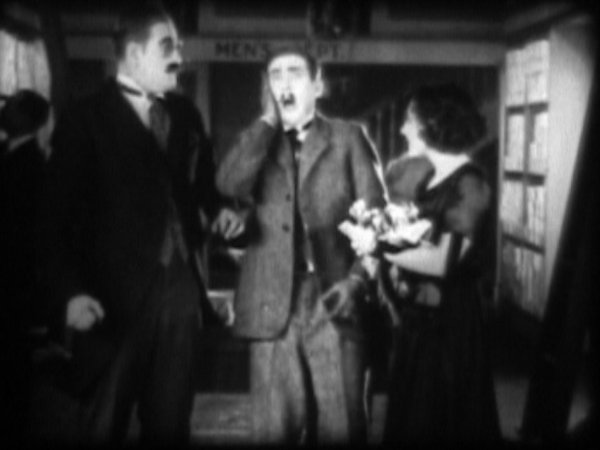 Paul (James Parrott) is a shoe salesman. After he clumsily hands over a shoe box to a lady customer containing all the money he has taken from sales, Paul quickly realises his mistake and rushes outside the store. He frantically searches boxes of passers-by, scattering a mess all over the sidewalk until he finds the box he is looking for. The money spills out onto the floor and he grabs the janitor's vacuum cleaner to suck the notes up into the machine. However, it appears that Paul has again lost the money when he presents it to the manager (

Eddie Baker

), but fortunately the doorman (

George Rowe

) has scooped it up and given it to the cashier (Jobyna Ralston), who hands it to Paul. He thanks the cashier and tells her how grateful he is.
A suspicious customer walks in carrying a fruit basket and asks to buy a pair of shoes. Paul gladly obliges but steals the basket from the man when he isn't looking and sends it on a carrier towards the cashier. She eats the contents and sends it back on the pulley, empty. When Paul sees the vacant basket, he thinks quickly to cut some plastic grapes from a woman's hat who is sitting nearby and re-fills the basket.

Paul turns away to get some shoes off the shelf for the man when the customer puts a pair of socks on over his shoes, making the shoes appear bigger than they are, but in actual fact he is does it so that he can steal the shoes.