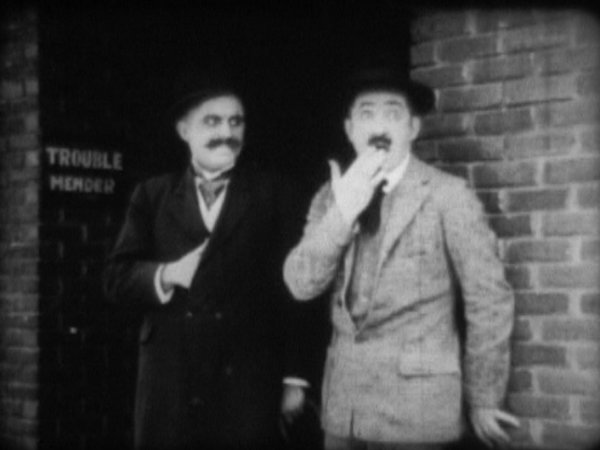 A gentleman with a bunch of flowers is stalking a man and woman who are out for a walk when he stumbles upon a movie being shot in the local park. After an altercation with the lead actor of the picture (

Fatty Arbuckle

), the stalker steps in and takes the girl away, leaving her boyfriend behind. The stalker then offers his flowers to the girl whilst the jilted gentlemen seeks advice from a help centre called 'The Trouble Mender' run by Edgar Kennedy.
The man reveals his unfortunate experience with the woman in the park to the male secretary, who laughs uncontrollably. On the other side of the wall, the boss (Kennedy) listens in and eventually intervenes, through a revolving door in the wall and offers to help the man. The Trouble Mender tells his new client that the best thing would be for his client to die and sets about trying to throttle him in the office. The man pays some money for the 'service' and is then shown the exit (well, he is pushed through a revolving wall).
As the boss leaves the building, he bumps into his client.

REVIEW INCOMPLETE.......