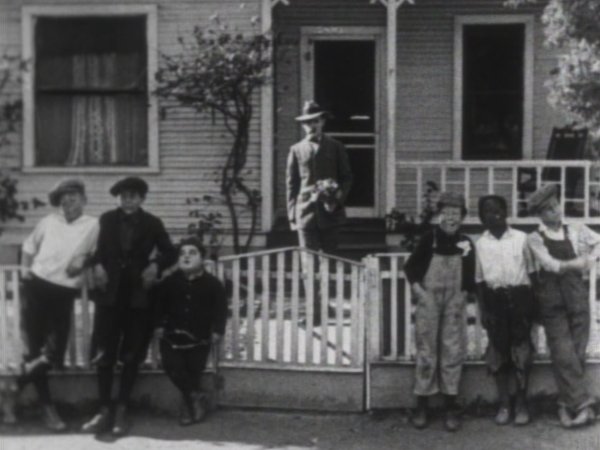 Dorothy (Beth Darlington) is the village slut (she "has more lovers than her [doctor] father has pills"). She initially gets all excited when the village sheik Lem Tucker (Earl Mohan) shows up in his horse and carriage but quickly dismisses the idea of taking a ride with him and goes back inside. Introducing Jimmy Jump, who is described as a coward ~ who, after greeting his elderly mother indoors, steps outside of his house and is accosted by six boys (the "Our Gang" kids) armed with a slingshot. The boys playfully fire a shot at him, spray water from a prank rose in his face, push him over and begin hitting him. The prolonged assault is broken up when Lem confronts Jimmy for picking on the boys. Jimmy retreats into his house and takes out his frustrations on a dummy he has in his bedroom in order to muster up enough courage to confront Lem outside.
Jimmy's attempts to be brave quickly backfire however when the bully Lem begins ripping the clothes from his back. Jimmy returns to his dummy to throw some more punches but Lem watches him through a window and when Jimmy isn't looking he takes the place of the dummy; smacking Jimmy in the face when he gets a chance. A chase begins outside which ends when Jimmy hides behind his broom-wielding mother, who shoos away the man and all of the kids.
Jimmy wanders on over to his sweetheart's place where they sit outside on a bench on the lawn. Lem rides back and forth in his cart ridiculing Jimmy every chance he gets. Just then another couple take refuge on the lawn, with the man wooing his girlfriend before eventually proposing to her. This gives Jimmy the idea to do likewise with Dorothy. She accepts, but when Lem Tucker sees this he chases after Jimmy, who hides in Dorothy's house. Her father tells him he only has one week to live, and so Jimmy decides to "die like a man" (Jimmy has misheard the doctor, who actually told him to DIET in a week). Now filled with confidence and with nothing to lose, Jimmy exacts his revenge on his tormentors; beginning with the boys and then taking on the bully Lem Tucker, whom he tears a new one for!
Despite having the crap kicked out of him, Lem still grabs Dorothy and takes her away on his cart. Jimmy pursues them on a cow. Yes, a cow. He apprehends the bully and chases him - and his mother (Helen Gilmore, see very briefly) back into his house. It is at this point Dorothy tells Jimmy that he mis-heard her father's words and that he isn't going to die at all!