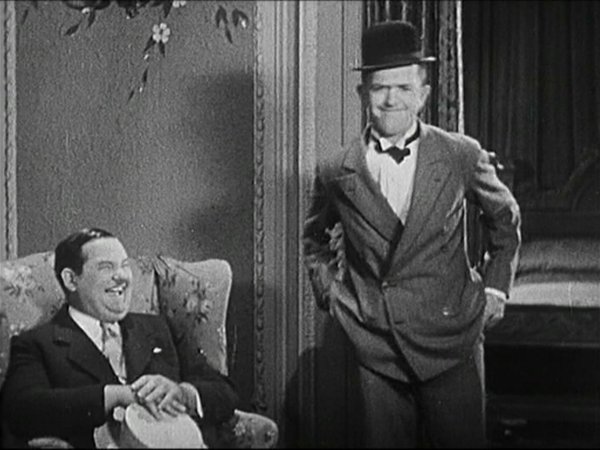 Whilst sitting on a park bench between 9 a.m. - 10 a.m. (that important hour when financial kings of the world open their mail, according to the opening titles), Ollie opens a letter which informs him of his uncle's passing, leaving his estate and all his riches to him. Stan naturally worries about what will become of himself but his fears are relieved when Ollie tells him that he will be hired as his personal butler. They take their little dog and head for the new mansion, Hardy Manor. Stan has prepared a birthday cake for his new master, and awaits for Ollie to arrive home. Merry from a night of drinking champagne, Ollie decides to play a prank on Stan by hiding in the bush outside the front door so that when Stan comes to answer the doorbell Ollie can sneak inside, leaving Stan out in the cold.
When eventually Stan does manage to get indoors he tries to subdue the lively Hardy because the dog is asleep, but the master is having none of it as he continues to be joyful even to the point of summoning the dog and ending up on his back in a heap. Stan asks "Have you been drinking, Sir?"
Ollie bashfully admits that he has. Stan instructs Ollie that he must go to bed immediately and then goes to fetch the dog a bowl of water. The mansion has a wonderful water fountain with a feature of cherubs heads from which the water flows from their mouths. One of the heads on the fountain is constantly blocked and Stan has to repeatedly bash it over the head to get it to work. Strangely, but in typical Stan Laurel fashion, rather than just scoop the bowl into the water below he instead attempts to fill it from the spouting stone head, but when it again malfunctions he instead turns to assaulting the statue and scooping the bowl in the water. The long way around doing something simple!